British skipper Alex Thomson is up to second place in the Vendée Globe, the speed advantage of his Hugo Boss is telling in the NE'ly trade winds. But the coming hours will be fascinating, as the leaders of the 29 boat fleet play out their respective strategies for the passage of the Cape Verde Islands, and may determine the order and time differentials for the 450 miles that remain before the hurdle which the Doldrums – the ITCZ – represent.Thomson's electrifying speeds have returned him to second, 24 miles behind Armel Le Cléac'h who has lead for four days, since overhauling Hugo Boss on the 1700hrs ranking last Tuesday. The British skipper had made 479 nautical miles in 24 hours today, not far shy of the solo monohull record set in the last Vendée Globe by winner François Gabart at 534 nautical miles.
The record for Les Sables to the Equator, Jean Le Cam's 10days 11hours 28mins set in 2004-5, may well be under threat.
While Sébastien Josse (Edmond de Rothschild) in fifth and third placed Vincent Riou (PRB) now 12 miles behind Thomson, have taken a course slightly more to the west, trying to avoid the worst of the wind-shadows created by the high volcanic mountains of the island archipelago.
The north-westernmost island, Santo Antao, has two mountains nearly 2000 metres high. The high ground disturbs the flow of the NE'ly trades for nearly 100 miles downwind. The course taken by Le Cléac'h appeared to be taking him within 10 miles of the island. But this first island is only 12 miles long so it looks to be a calculated risk.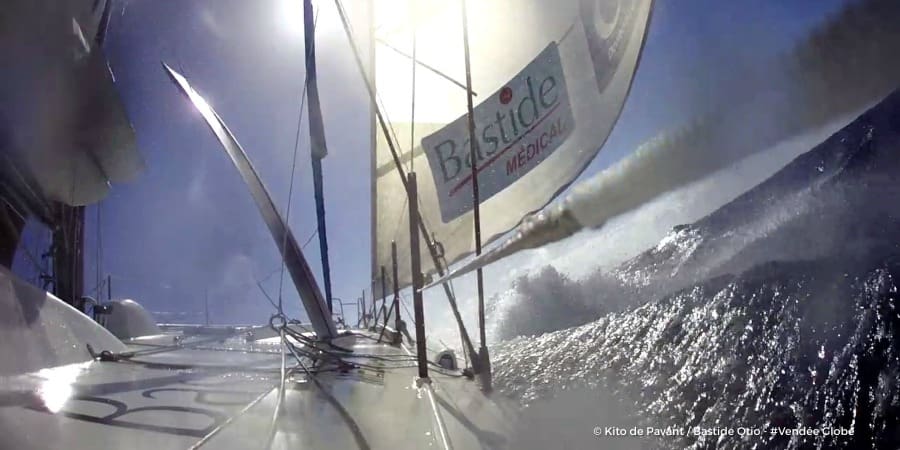 Alex Thomson confirmed this morning that he will pass through the islands, taking advantage of any acceleration of the breeze caused by the high ground, but will also have to recognise the zones of unsettled air. Rookie Morgan Lagraviere (Safran) looked to be lining up to follow in the wake of Thomson's Hugo Boss, but gybed hard west at 1330hrs this afternoon, losing miles to Riou and to his rivals to the west.
"There is quite a big windshadow behind these islands, there is some jiggery pokery to be done." Said Thomson this morning. " I am on the edge of the sailplan that I have got so the boat requires constant attention to make sure I don't broach or gybe or go down a wave too hard. You have to always look after the boat to make sure nothing happens."
The magnificent seven, Le Cléac'h, Thomson, Riou, Lagraviere, Josse, Jéremie Beyou (Maitre CoQ), and rookie Paul Meilhat (SMA) are moving further clear of Yann Elies (Quéguiner-Leucemie Espoir) in eighth but Elies had found an extra gear on the former Safran and was making 21kts this afternoon.
The Doldrums, which the leaders are expected to reach tomorrow night, do not look too active, nor too wide. A narrow band around 30W exists which is reckoned to be only about 60 miles wide which may prove the optimum zone to transition to the Southern Hemisphere.
But the pace and intensity of the foiling boats, especially, is a tough environment for the skippers. Jéremie Beyou – no stranger to hardship – commented today:
" Like a Solitaire du Figaro for the past week which is great, intense until we pass Cape Verde then cooler. It's been quick since start and we're bunched up, you really have to be on top of the trimming. 20-30 knots this morning – really powered up at times –between 19 and 30 knots so trimming is pretty hard. Unbearable racket – you can't live with it. If you don't put your headphones on, 20 minutes later you can't stand any more. I slammed off a wave and lost one set the other day. Vibrates through the whole boat. Goes right through your body."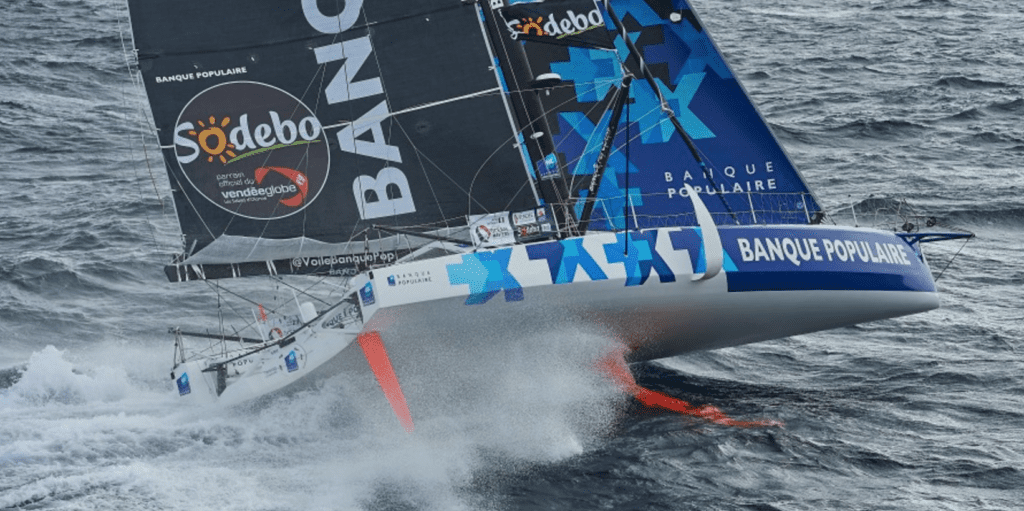 The race between a posse of very experienced international skippers, the hard core Super 60s, remains close and exciting, albeit a few miles behind the leaders. Nandor Fa (Spirit of Hungary) and Rich Wilson (Great American 4) are lined up on the same latitude albeit 75 miles apart. Both have already completed one Vendee Globe apiece. But in that same match is Kojiro Shiraishi (Spirit of Yukoh) and Stéphane Le Diraison (Compagnie de Lit-Boulogne Bilancourt) on the Groupe Finot designed former Hugo Boss.
Le Diraison and Wilson had a pleasant e-mail exchange two nights ago when they passed close to one another, sailing with each other's nav lights clearly visible for a period.