Sailboats
Domus, the 40m Trimaran Concept that Aims to be Zero-emission Unveiled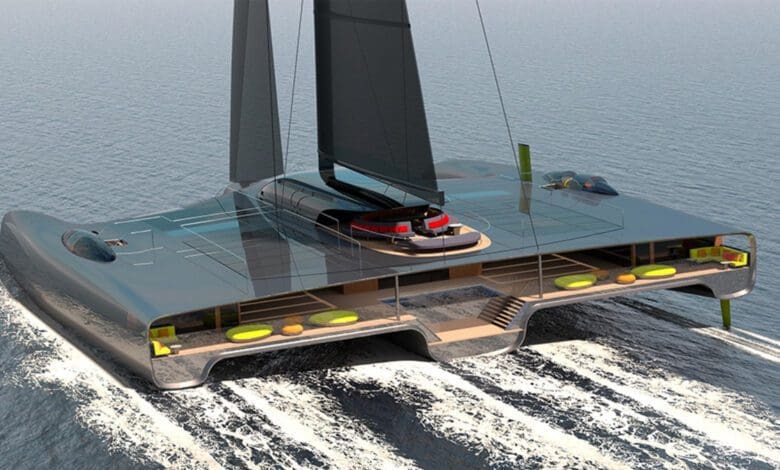 Rob Doyle Design and Van Geest Design have collaborated to present Domus, a 40-metre sailing trimaran concept with an interior volume that rivals a 60-metre motor yacht. Domus, whose name in Latin means a single-storey house built around an atrium, uses this design aspect to create a spacious feeling onboard. 
Domus is a unique design, combination of solar power, hydro regeneration and hydrogen fuel cells , that give the concept unlimited range with zero emissions. The trimaran spreads across two decks. Main guest areas are all on one deck. The main saloon has a bar.
"The uniquely designed combination of solar power, hydro-regeneration technology and hydrogen fuel cells gives Domus unlimited range with zero emissions," the design team said.
Two owners' suites include access to private lounges, while the other six staterooms welcome guests in their elegant interiors. Domus is no less opulent that much bigger motor yachts, showing off a spa area with a swimming pool, a gym, the main salon with a bar, and even a cinema room.
TDomus will be able to heel at an angle of two degrees to reduce drag and improve speeds with maximum comfort and minimal rolling. The Dutch firm says "a guest on board will experience a level of comfort underway, far superior to any sailing or motor monohull."
Rob Doyle is one of the new generation of yacht designers tackling the modern challenges of the large yacht business. With a strong 20-year career evolution in the large yacht sector, his experience is unique in the hands-on field of design, styling, performance, naval architecture and classification.
Van Geest Design strives to keep design pure and uncluttered. Integrates the interaction between the outside environment and the interior spaces. And evolves its designs, always featuring something innovative and unique.