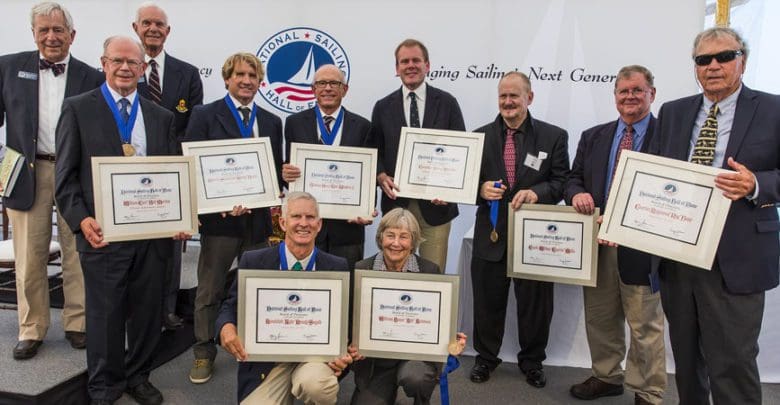 The National Sailing Hall of Fame (NSHOF) celebrated its seventh class of Inductees on Sunday, September 24, during ceremonies hosted by New York Yacht Club at their Harbour Court clubhouse in Newport. The eight Inductees, including three posthumous honorees, were celebrated for the impact they have had on the sport. The National Sailing Hall of Fame, dedicated to preserving the stories of these sailing heroes to inspire future generations, has now enshrined 65 heroes of the sport.
Bill Bentsen
A Chicago native, Bill Bentsen (Lake Geneva, Wisc.) started sailing on Geneva Lake at age eight at George Williams College Camp in Williams Bay, and began sailing at Lake Geneva Yacht Club when he was 13. Both of Bentsen's Olympic medals were won while crewing for Buddy Melges (famously known as the Wizard of Zenda, Melges was a member of the first class of NSHOF Inductees in 2011.) The longtime friends and fellow scow sailors targeted the 1964 Olympic Games in the Flying Dutchman class, easily winning the U.S. trials before going on to win a bronze medal at the Games in Tokyo. Eight years later they joined forces again to race in the three-person Soling which made its debut as an Olympic class in 1972. With the addition of another Lake Geneva Yacht Club member, Bill Allen, they would go on to win a gold medal in Kiel, Germany (the satellite venue for the sailing events), at the Munich Olympic Games. And when Melges assembled the first-ever team from the Midwest – the Chicago-based team Heart of America Challenge – to campaign for the America's Cup, he turned to Bentsen to be CEO of the organization. Although this collaboration did not attain the same success on-the-water as their earlier efforts, the campaign did produce one of the most iconic images in America's Cup history: a poster of a 12 Metre sailing through wheat fields that crystallized the essence of the team and its origins.
Bentsen's sailing resume includes a gold medal at the 1967 Pan Am Games in the Flying Dutchman (again crewing for Melges), and is replete with national and North American championship titles in scows and ice boats. However, it is his singular focus on improving the sport for other competitors that has earned him the sport's highest international and national honors: World Sailing's Beppe Croce Award in 2009 and US Sailing's Nathanael Herreshoff Award in 1994. And now, the National Sailing Hall of Fame.
Clark Mills
Posthumous Inductee boatbuilder Clark Mills of Clearwater, Fla. (1915-2001), was a Snipe builder and designer who once said "I became famous for a boat I designed that looked like a horse trough." The simplicity of the design, conceived in 1947, has made it the ideal learn to sail boat for children under 16. In attendance at the Induction was Clifford McKay, who was 12 years old when his father asked Mills to design to design a small, stable boat for junior sailors. McKay was the first of the now 400,000 children to ever sail the Optimist Pram. It was constructed out of eight-foot sheets of plywood for under $50. Mills never received any royalties, and 70 years later the basic design is the same as the original. It is safe to say that the Optimist is the most important boat in the world, in terms of impact on the sport, having introduced thousands of children to sailing.
"I became famous for a boat I designed that looked like a horse trough". Clark Mills
Randy Smyth
A native of Pasadena, California, Randy Smyth (Ft. Walton Beach, Fla.), grew up in a sailing family. He started out in the typical first boat of most Southern Californian youngsters, a Sabot, but the lure of the twice as fast Aquacat, on which he could take along friends, got him into multihulls. He won his first catamaran race at age 11, sailing with his younger brother David. By high school, Smyth was working part-time for sail maker Rick Taylor and in 1968 the two competed at the Tornado World Championship in Kiel, Germany. Smyth would go on to dominate the Tornado class, winning seven national titles (1980-1986) and, with crew Jay Glaser, the Tornado World Championships in 1981 and 1982. At the 1984 Olympic Games in Los Angeles, Smyth and Glaser would win the silver medal on the waters off Long Beach.
Smyth's status as a multihull guru was cemented in 1988 when he assisted Dennis Conner in winning his America's Cup defense in San Diego during the first appearance of multihulls in that iconic event. Four years later, in Barcelona, Smyth, with crew Keith Notary, would claim his second Olympic silver medal, again in the Tornado.
Smyth's sailing resume includes winning the Worrell 1000, a grueling 1000-mile distance race which he sailed in a record 75 hours, and consulting on two Hollywood films: Water World (in which he sailed as well), and The Thomas Crown Affair. And now, the National Sailing Hall of Fame.
Robby Naish
Winning an airline ticket at a national championship when he was just 13 put Robby Naish (Haiku, Hawaii) on his eventual career path. When he graduated from high school in 1981, Naish had to make a choice. "I was a sailor at heart. I loved tactics, I loved feeling the shifts and reading the wind and catching the bumps, that feeling that you get from sailing that you don't find anywhere else in life. As sailors, we're very lucky to be out there in the wind and the waves. Windsurfing was going to turn olympic in 1984. And if you took a dollar, you were done, you weren't going to the Olympics. It was a tough decision. I deferred admission to university and turned pro. That was the beginning of pro sailing and now, at 54, I'm one of the oldest professional athletes. For me this has been a path of luck, being in the right place at the right time and an appreciation of just how lucky I've got it. My message to you all is to remember how lucky you are. To be able to get out on the water and experience nature in a way that is difficult to experience any other way. Being on a boat, learning what the wind does, what the waves do…it's an experience that not enough people in the world get to enjoy."
Ray Hunt
Posthumous Inductee, 5.5 World Champion Ray Hunt of Duxbury, Mass. (1908-1978), was the innately talented yacht designer of both sail and power vessels. Learning to sail on the shallow waters of Duxbury Harbor, Hunt honed an uncanny understanding of tide, current and fluky winds which has been characterized as "a very close touch with the water." By the age of 15, his aptitude on the helm became well-known when he led a crew of junior sailors (who were required by the rules to wear caps, neckties and jackets while sailing) to win the Sears Cup at Marblehead's Eastern Yacht Club in 1923, a feat he repeated in 1925. The victories led to his becoming a much sought-after crewmember and he sailed R-boats and Q-boats before buying his own R-boat and proceeding to beat newer versions of the 25' sloop, including one sailed by its designer, Frank Paine. Paine's interest in Hunt started with putting him at the helm of the designer's new 8 Metre Gypsy and ultimately led to Hunt's employment in Paine's design and brokerage office on Beacon Street, Boston.
By 1932 Hunt was in partnership with Waldo Howland in the Concordia Company, starting from a brokerage business and progressing into design, boatbuilding, and ultimately the Concordia yard. Their first design-build was a B-class dinghy which was sold on the spot after they won a winter regatta in it. Despite not having any design credentials, Hunt's instincts built his reputation and he would go on to design, most notably, the 110, the 210 and the Concordia yawl, among others. A year of R+D at New Bedford's Wamsutta Mills, working on sailcloth before the war, made Hunt into one of the pioneers of modern sail making. During the second World War, he took an interest in powerboats which eventually resulted in the Boston Whaler and the revolutionary deep-V hull – that could cut through the water without pounding – and which would earn him world-wide recognition. Dick Bertram, asked Hunt to design a 31′ version, and had the first one built of wood for the 1960 Miami-Nassau powerboat race. Moppie was victorious in that rough run to Nassau and fast powerboating was changed forever. Hunt will forever be known as a racing sailor with few equals as well as one of the most influential yacht designers of the 20th century.
Inductee Tom Whidden (Essex, Conn.), is an industry giant who celebrated 30 years with global brand North Sails early in 2017. His father got him interested in the sport at an early age and he learned to sail at Cedar Point Yacht Club in his hometown of Westport, Conn., competing as a junior sailor on Long Island Sound while dreaming of racing in the America's Cup. Whidden realized that to pursue sailing at a high level he needed to make money, meaning his best option was a career in the marine business and while attending Colby College (from which he graduated in 1970), a summer job at Alcort Company – running their regatta programs – led to a role in sales. By 1972, Whidden had partnered with Peter Conrad to acquire Sobstad Sails which they built into a thriving business.
Whidden attracted the attention of Dennis Conner with whom he would fulfill his childhood dream: sailing eight America's Cup campaigns, starting in 1979 as a trial-horse skipper. As tactician, he raced in five America's Cup series, winning the Cup three times (1980, 1987 and 1988.)
Whidden joined North Sails in 1986, just before leading Stars & Stripes to victory over Australia in the 1987 America's Cup. He became CEO and co-owner of North Technology Group, formerly known as North Marine Group, parent company to North Sails, when it was established several years later.
Under his leadership, the design and manufacturing of technologically advanced sails has led to North's dominant position in the industry: every America's Cup winner since 1992 and every Volvo Ocean Race winner since 1993 has raced with North Sails. Emirates Team New Zealand's win of the 2017 America's Cup is partially credited to North, which designed and built ETNZ's boat, wings, sails and spars.
His success on-the-water includes winning the Newport-Bermuda Race five times, the Miami SORC five times (twice overall) and driving Gianni Agnelli's 92-foot yacht Stealth to victory over 200 competitors at the 2001 America's Cup Jubilee in Cowes, England. Whidden is also the publisher and co-author of two best-selling books: The Art & Science of Sails (now in its second printing) and Championship Tactics.
Bill Martin
Notwithstanding a lengthy sailing resume, which includes representing the USA in the 1981 Admiral's Cup (then unofficially regarded as the world championship of offshore sailing) and a national title (the 2008 Rolex US-IRC National Championship), Inductee and Lifetime Achievement Award recipient Bill Martin (Ann Arbor, Mich.)surprisingly did not come from a family that sailed. In fact, it was not until he was a grad student at the University of Michigan (U-M) that he was introduced to the sport.
Martin had earned a BA from Ohio's Wittenberg University in 1962, and a graduate degree in economics from the University of Stockholm in 1963. He received his MBA from U-M's Ross School of Business in 1965 and three years later, at age 28, founded First Martin Corporation, an Ann Arbor real estate construction, development and management firm that has since developed major office, commercial, industrial and residential projects.
Martin was hooked on sailing. While raising two sons with wife Sally, he was always racing. To this day, his favorite boat is the Santa Cruz 70, because he can take all his buddies and family on it. "It is easy to sail and it's a hoot," said Martin.
Martin was asked to get involved with the national governing body of the sport by Gaither Scott, the legendary Annapolis sailor who was a highly respected international race officer. "Don't take out of a sport without putting back," said Scott. He suggested Martin take on the chairmanship of the US IRC Committee which oversees offshore racing during a call that came several months after a cheating scandal had rocked offshore sailing. Martin accepted the challenge and led efforts to improve regulation of the sport. After serving as President of US Sailing (1988-1991), he took on the same role with the U.S. Olympic Committee (2003-2004) at a time when that organization faced an ethics crisis and its programs were in dire need of restructuring.
In 2000 when his alma mater was searching for a full-time athletic director, Martin took the job on a temporary basis; when the other candidates were eliminated, he was convinced to take the position himself. That began a 10-year tenure during which his leadership saw U-M recover from a budget deficit and an investigation into payments made to basketball players.
While Martin's U-M legacy is highlighted by his oversight of major upgrades to nearly every university athletic facility, his involvement in sports, business and community (including serving as president of the Washtenaw Land Conservancy; as board member of the Ann Arbor Public Schools Foundation and Washtenaw Technical Middle College) is defined by one word: integrity.
Corny Shields
Posthumous Inductee and Lifetime Achievement Award recipient Corny Shields of Larchmont and New Rochelle, N.Y. (1895-1981), was the winner of the inaugural Mallory Cup which earned him national recognition on the cover of Time magazine in 1953, and who conceived the Shields one-design in 1964 and founded the I.O.D. class. Born in land-locked Minnesota, Shields was six when he had his first sail on a 15' foot boat purchased by his father after the family relocated to Nova Scotia. In 1909 the family relocated again – to New Rochelle – and, having already learned much about weather and tide, Shields turned his attention to learning tactics and at age 22 won his first Long Island Sound championship in a Larchmont Interclub. He introduced the International Class to the USA in 1936 and undertook a mission to develop a one-design class that would limit costs and equalize boats. The International One-Design (IOD) became one of the most competitive boats in the USA, attracting well-known sailors. In 1963, he conceptualized a fiberglass version, the Shields, to capitalize on modern trends. Designed by the legendary Olin Stephens, 250 Shields have been built to-date and are still actively raced around the country.