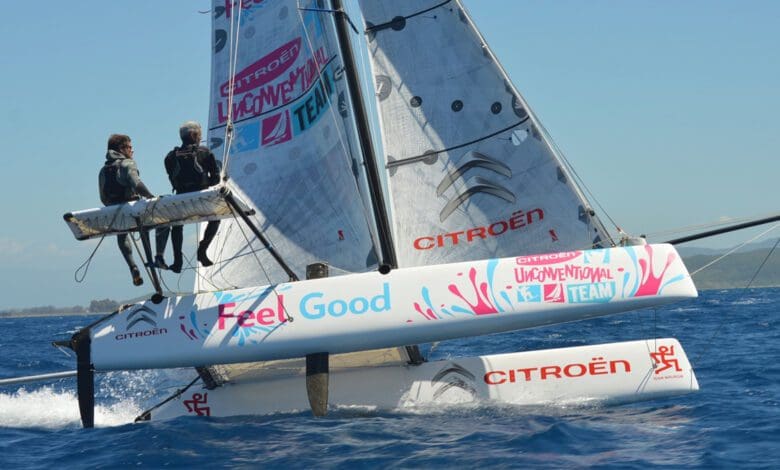 A nail-biter right up to the end. With no more wind and no more food, their lead over the old record, built up over 2,500 miles of sailing, was disappearing. But Vittorio and Nico Malingri made it, and Feel Good, their six meter catamaran, slipped by the red buoy off Pointe-à-Pitre as the WSSRC (World Sailing Speed Record Council) judges' stopped their chronometers, confirming the new record.
"The old man and the dwarf" annihilated the current record for the Dakar – Guadalupe route, crossing the line after 11 days, one hour and eleven minutes of sailing; ten hours less than the French duo of Pierre-Yves Moreau and Benoît Lequin in 2007.
The last miles were the most difficult for Vittorio and Nico Malingri: a capsize 100 miles from the finish (where they just managed to keep their cat from turning turtle); then the wind disappeared within sight of the island. "It was an unbelievable situation", said Vittorio on the sat-phone, "watching our hard earned lead dwindle to nothing in just a few minutes in the calm".
As in the purest seafaring tradition, the drawbacks were not lacking, such as the algae that forced father and son to free the rudder at regular intervals, a large sunfish that touched the rudder risking to break it, the breathtaking crossing with two whales, a scuffling almost on the finish line that damaged the on-board electrical system. In the end, however, success arrived and Vittorio and Nico, exhausted but enthusiastic, wrote another important page in the sporting history of sailing.