The 2019 Annapolis Boat Shows kick off today, when the United States Sailboat Show takes over the city's harbor and will include nearly 600 exhibitors and over 200 boats. Our team selected 8 sailboats not to be missed!
Beneteau First Yacht 53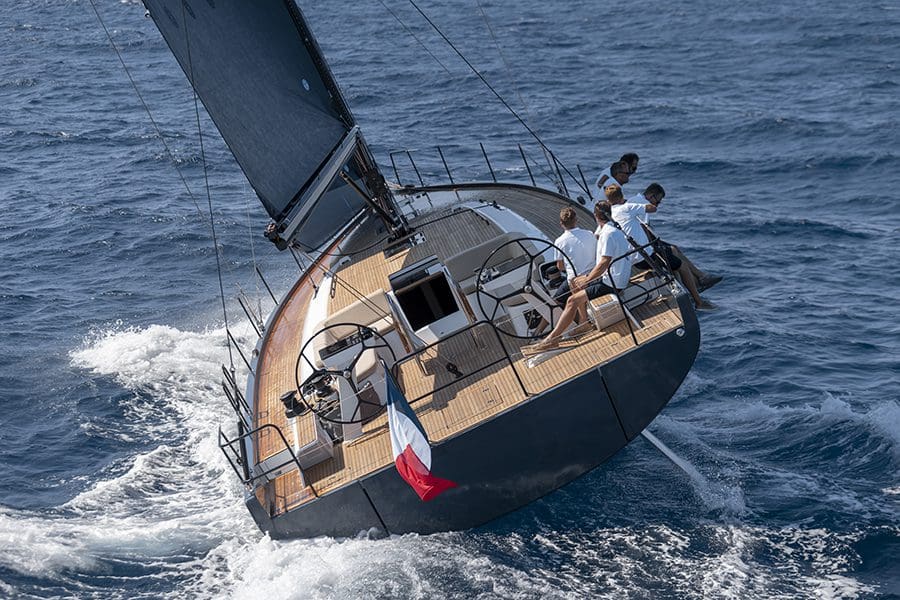 Capitalizing on 40 years of expertise, the First Yacht 53 is the latest member of the First range, launched by Beneteau in 1977. With sights set on high-performance cruising and more, this "Luxury Performance" sailing yacht was designed for expert sailors and demanding owners. With a well-balanced hull and helm for unique sensations, easy-flow deck plan, modern marine interior with a décor of white lacquered bulkheads and moulded wood, the First Yacht 53 gets the renewal of the new generation of First sailing yachts truly underway!
Hallberg-Rassy 48 MK II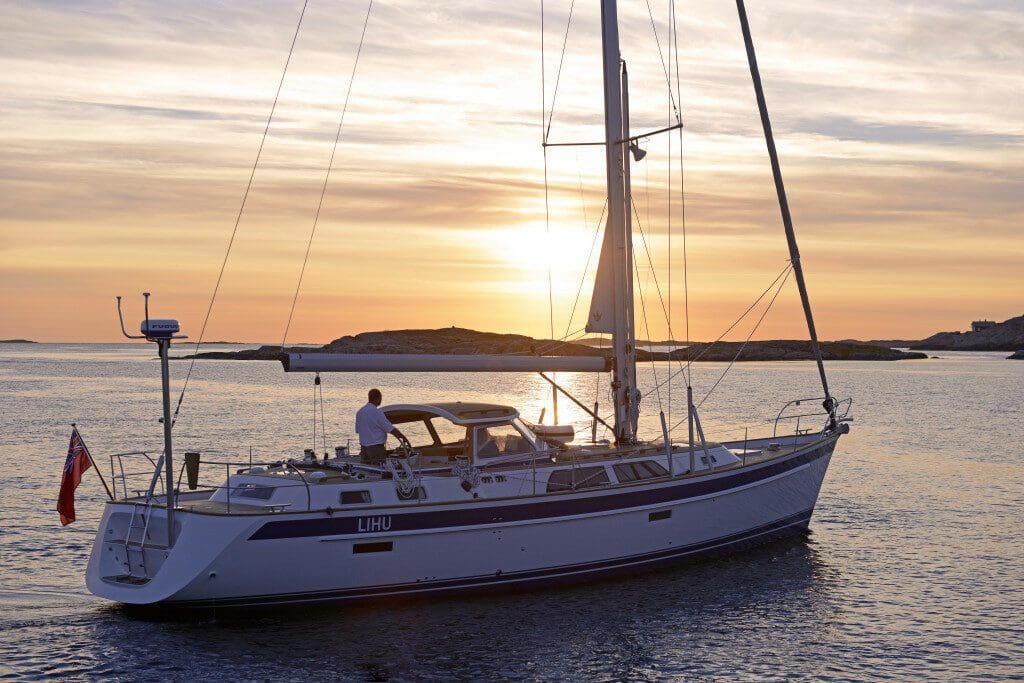 The Hallberg-Rassy 48 is a true blue water cruiser that offers more natural light, more comfort and more elegance than ever before. With three double cabins and a vast saloon, she offers great space for modern comfort aids. Known far and wide for sturdy construction, superb craftsmanship and signature seaworthiness, Hallberg-Rassy boats are globally respected for their elegant lines and spirited performance.
Dufour 390 and 430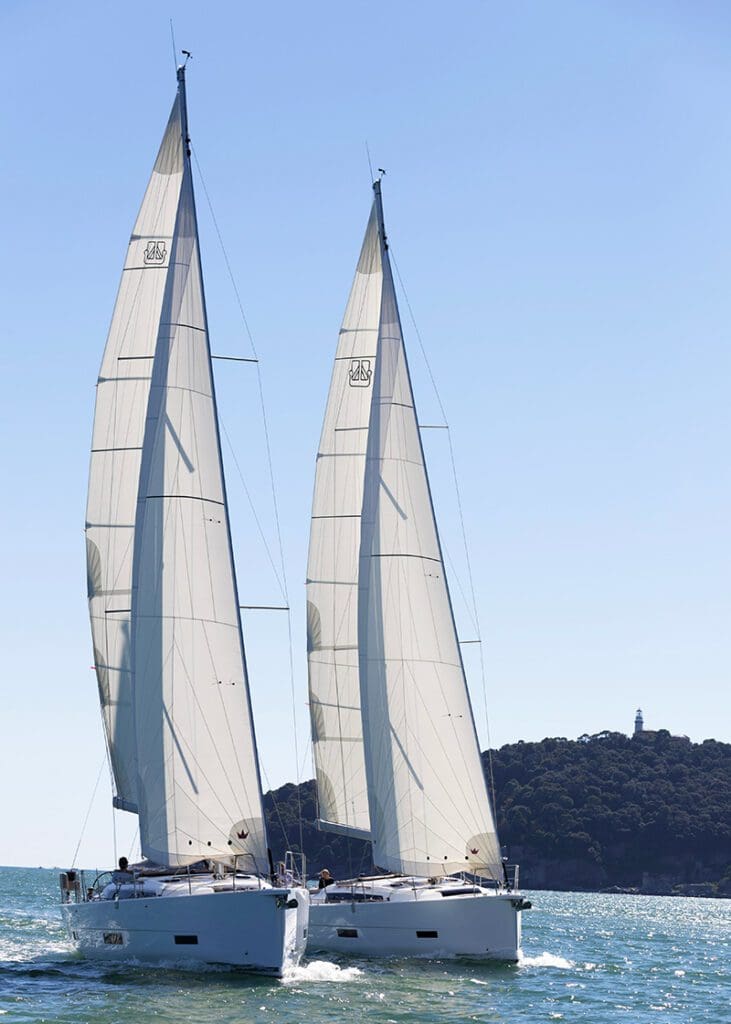 The Dufour 390 and 430, the new generation of the Dufour Grand Large – the third since the range was launched 2005, represents a perfect match between performance, easy handling and comfort. Hulls with softened and raised bilge strake, optimized deck plans to take full advantage of your sailing and stopovers, new standard equipment, and connected technology with the new "Dufour Connect" unit: the 3.0 Grand Large Generation will definitely make you want to sail away.
Amel 50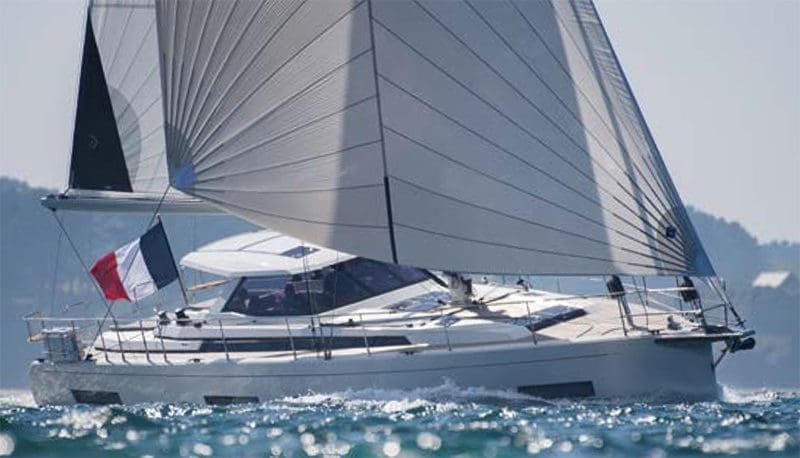 An accessible and versatile model. With this model, the shipyard broadens the scope of use and opens up new prospects at sea. While not aiming to compete with racing yachts, the AMEL 50 promises superb sensations, allowing owners to choose the way they use their boat. A family trip for a relaxing weekend break, a coastal getaway for two or a cruise on the high seas with friends… AMEL 50 is all of the above.
Catalina 545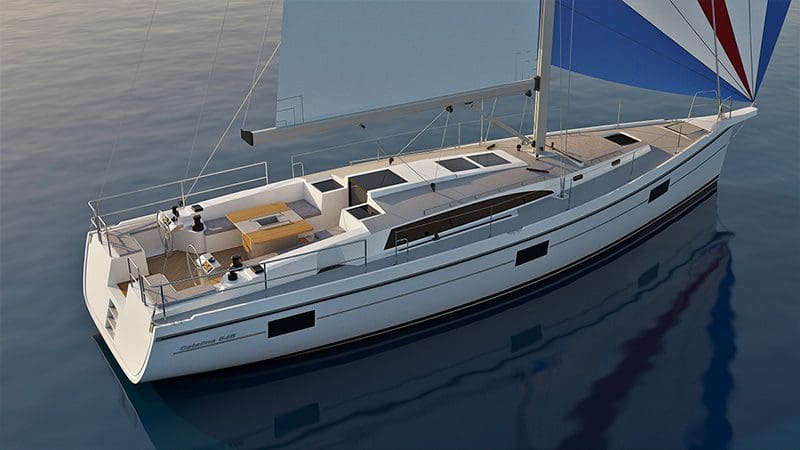 Preliminary introduction of the long awaited for Catalina 545. From the desk of Gerry Douglass, this yacht is the natural evolution of the popular Catalina 425 with similar lines and features found on all 5 Series yachts.
Kinetic KC62
Introducing the new bold KC62 from Kinetic Catamarans. This impressive machine is designed to offer more – more performance, more luxury, and more sailing enjoyment. The carbon bodies are light in weight and big on power making them the ideal performance worldwide cruiser/racer for the sailor who knows what they're looking for, whether that be racing, worldwide cruising, entertaining, or relaxing at anchor.
Based in the USA, these vessels are designed by Simonis Voogd and built-in our highly experienced yard in South Africa in collaboration with international partners.
Outbound 56

Welcome aboard the newest addition to Outbound's impressive line of offshore passage makers, debuting at the United States Sailboat Show. The new Outbound 56, built from German Frers timeless and proven design continues to fulfill our single mission of building great offshore yachts. Fast, accommodating and gorgeous, the 56 will take you anywhere your heart desires in style and comfort. Design the light-filled interior to your personal tastes and sail her around the world!