James Robinson Taylor has finally published his definitive volume, an excursus through his thirty-odd years of yachting photography. Back-stage texts, more than 100 images, a flip-through map placing the boats on the course, all in a portable format. 
This nautical notebook presents his favorite shots, unique expressions of a devouring passion for sailing. In a carefully calibrated mix ranging from classic yachts to olympic dinghies, flat calms to 40 knot hail squalls, the images are are a joy to contemplate. Each chapter represents a part of the day's racing and features photographic back-stage commentary, hoping to describe what was going on on the other side of the lens. On each page of the racing the boat's position is set on a flip-through map, though not quite with GPS accuracy. We met James.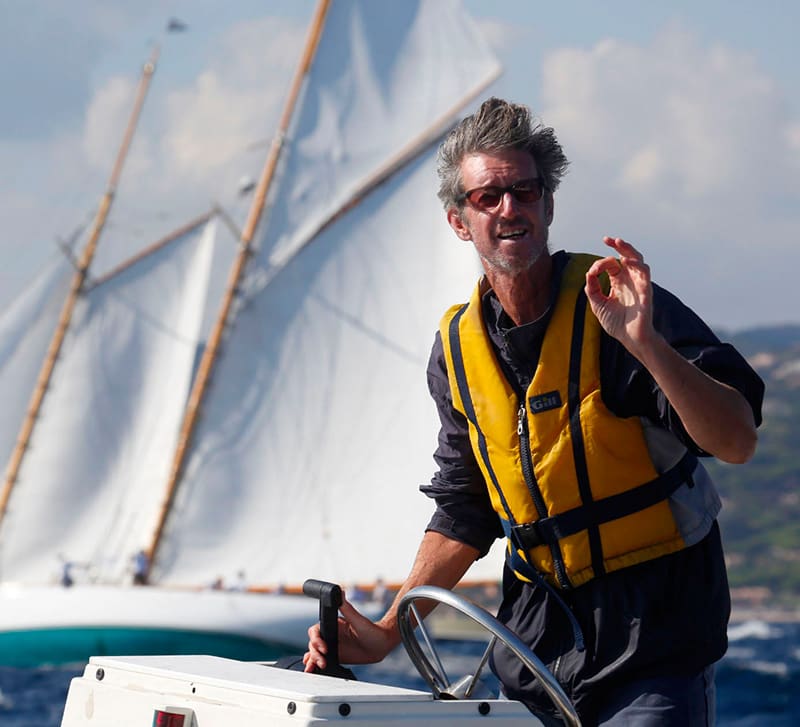 What was it like to select 30 years of images for a book? Was it a starting point or a finishing point?
Hard work I guess – I tried to understand all the aspects of the images, eliminating any emotional attachment and tried to evaluate the image on it's own merits. I was looking for something unusual, different from the typical images that we see, everyday now, and something that would stimulate the observer. Then I had to invent some kind of narrative structure and pair off the images – it took us 18 months, from the first ideas to printing.
Actually both, but I didn't realize the latter until I presented the book. It is still a starting point for an editorial project, but then I understood that it was also an expression of 'been there, done that'. A new undertaking will get underway in the next few months, something I've been dreaming about for decades – we'll get back to that another time!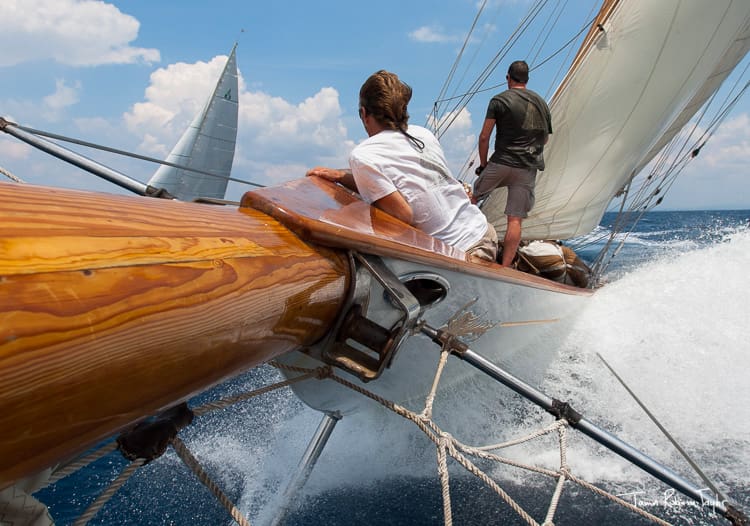 How did you begin your career as a photographer?
Almost by chance, if by career you mean a trade. After a few years working as a draftsman in an architectural firm, one evening my companion came home with an Italian government journal (she's a lawyer) with the announcement of an Italian Cultural Ministry photography project. I have always taken photographs (and drawn), but had never tried to make an economic go of it. The competition went well for me: I began professional photography taking medium and large format images (that's where you put your head under a black cloth and look at things upside-down) of Renaissance works of art in Florentine churches and museums. A few years later, I met Franco Pace….!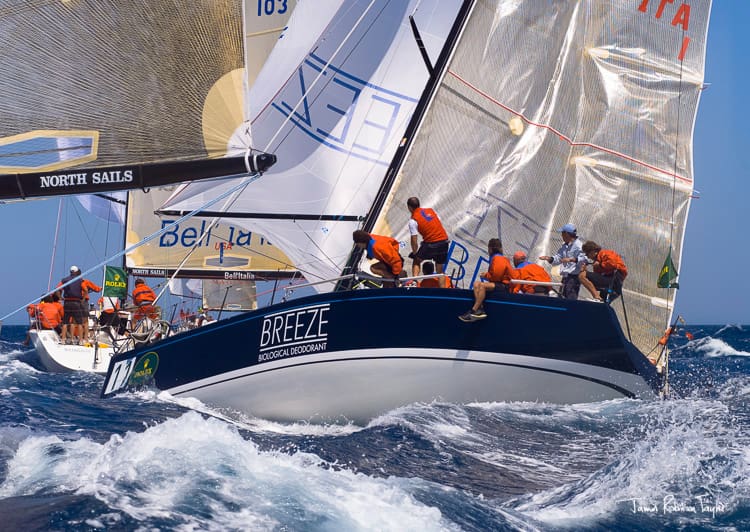 Which regattas were the most memorable?
Without a doubt solo ocean racing events – the Solitaire du Figarò, the Around Alone. And the America's Cup – in the years I was involved, it was always David against Goliath, Team New Zealand against teams that represented, to me, several unpleasant features of our society. Rather run-of-the-mill photographically, the Cup continues to bring out my suppressed political instincts (I studied political science while a member of the university sailing team).
And your favorite images?
Buy the book! Seriously, what can I say – a lot. They are all my children, each one is the result of hard work and passion. More specifically, my digital archive has about 460,000 shots, and I consider about 13,000 worthy of something. The selection base for JAM was about 400 images.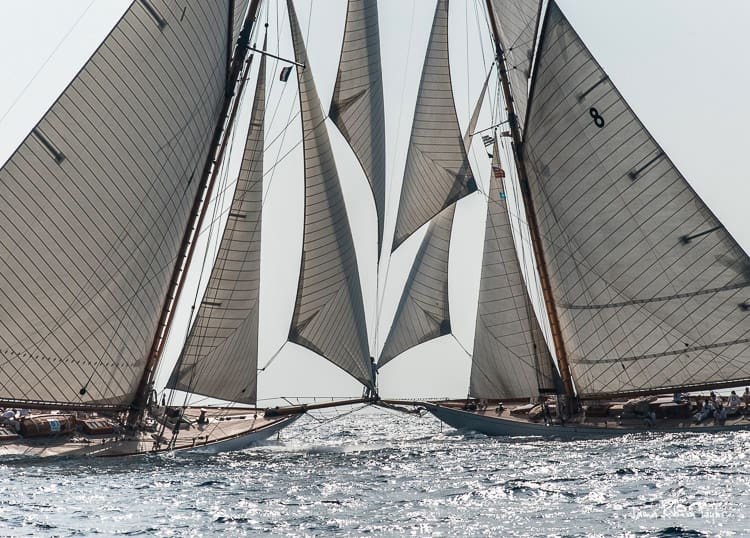 Classic yachts, modern racers, you have followed them all – but what is your ideal boat?
Hmmmm… for gunkholing, a Nigel Irens 'Roxane'; for roaming farther abroad, an American pilot schooner; for racing, a good fleet of one-designs, any one will do. The Atlantic for crossing oceans. Last month, I reluctantly deserted an auction in France for a battered Finnrose 37. Still don't know if that was the right thing to do.
What advice would you give to a young person who dreams of becoming a sailing photographer like you?
If they're dreaming, they're already halfway there. If you don't love sailing and photography, and live for them, you will never be able to bear the sacrifices and risks. If you work with your dreams though, you will find your path. And if you give me a call, maybe we could go out in my RIB for a spin…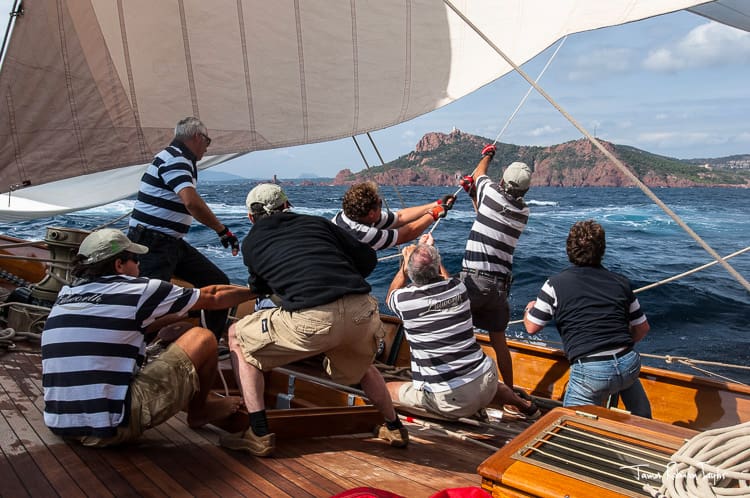 What was the most difficult image to take?
I remember a grey rainy day on the Channel with a strong southwesterly sea and wind, at the start of a Transatlantic race. I had been assigned a RIB driven by two tipsy power-boaters, not very good seamen to begin with. I could only take pictures aiming to leeward, the air was just full of water. A shot of Desjoyeaux's trimaran launching off a wave made it to a magazine cover.
And now, our classic question: what does sailing mean to you?
A philosophy for this crazy world of ours, demeanor and conduct that bring out the positive side of human nature and act as a moral compass, sailing man's creation of unequaled beauty and function. Take that!
Discover more about JAM here.