Thomas Ruyant (Le Souffle du Nord pour le Projet Imagine) has made it to the port of Bluff in the south of New Zealand.
He is safe and sound, but his boat suffered a lot of damage in the violent collision with the unidentified floating object. "One side of me is very sad and the other is relieved. I have brought home a seriously damaged boat. My Vendée Globe is over and I won't be sailing her into the harbour entrance channel in Les Sables. But until that incident I had had a good race," declared Thomas at the finish.
"A few hours ago I thought it was all over for my mighty boat," Ruyant told his team this morning. "I could no longer make headway in 45 knots of wind. I was below with one finger on the beacon button to ask to be picked up. I thought I was going to lose Le Souffle du Nord forever."
"I rounded up every couple of minutes. I couldn't control my boat with the damage to the steering system. The rig was limp and I no longer had any backstays. It was all hanging by a thread. After that tricky moment and rounding the famous cape, I realised that I was going to make it. There was an incredible moment of satisfaction with the sun going down along the coast of New Zealand."
Keel ram problem on SMA
Yesterday afternoon, Paul Meilhat contacted his team to inform them of a problem with his keel ram. The ram has a 40 cm (16 inch) crack and this has led to the keel canting leeward of the boat. Paul is in the process of blocking the system to try to get the keel in the middle. To carry out this operation, he bore away and is heading towards the north.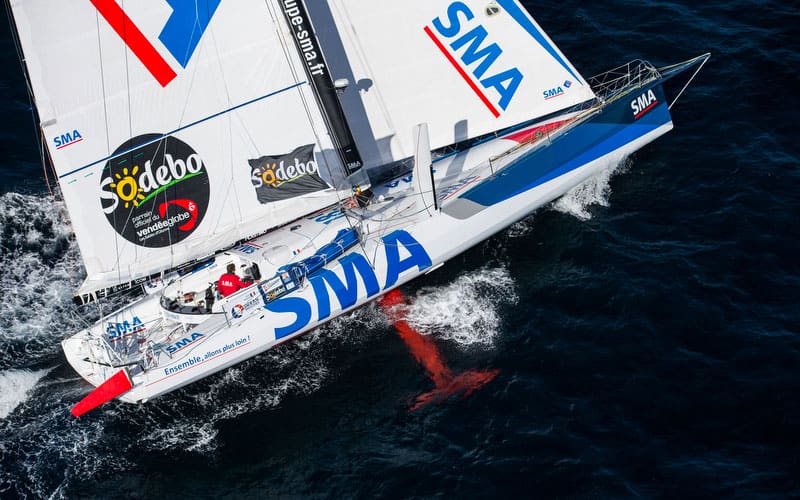 It was after hearing an unusual noise early this afternoon that the skipper of SMA went to inspect his keel housing. He immediately realised that oil from the hydraulic circuit had flooded the ram compartment. He thought first of all that it was a pipe that had burst in the hydraulic circuit, but then noticed a 40 cm crack in the ram itself.
"I was reaching under J2 in twenty knots of wind, when I heard a big bang. I quickly understood that the keel had shifted to leeward. I bore away and then I saw that oil from the hydraulic circuit had been leaking under the ram. I thought it was a broken cylinder."
"I looked for the cause of the problem. One tube was unscrewed, but when I added oil, it poured out everywhere. This afternoon, with the wind astern, I managed to get the keel fixed in the middle using the security system. The whole of the hydraulic system is now out of use and if not fixed in position, the keel will swing from one side to the other. I'm trying to head towards the NW to get away from the strong winds. I can't get to grips with what has happened. I am keeping myself busy to avoid thinking about it. My priority is to look after my boat."