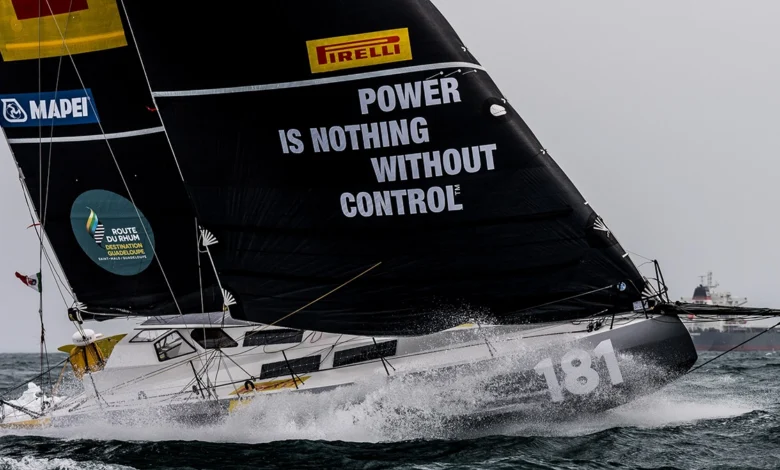 France traditionally dominates the non-IRC classes which compete in the Rolex Fastnet Race, both in numbers and results. This comes as no surprise since they created classes such as the Ultim and IMOCA. This has been the case too in the Class40 for most of its 20 year existence, up until this season.
To recap, the Class 40 is governed by a box rule which in particular tightly restricts materials to limit costs. So, for example boats are built in glass not carbon. The formula has worked and today the Class40 is by far the most successful 40 footer of all time, with almost 200 launched.
Recently more pro-sailors have been joining the class, but there remains a respectable amateur contingent, although 'racer-cruiser' Class40s are a thing of the past – all are now thoroughbred racers. Of the French classes, it is the most international, with boats racing representing most continents. For example, the 24 entered in the Rolex Fastnet Race are from eight nations, including Poland (sailmaker Artur Skrzyszowski on Selma Racing) and from Brazil is Angola-born doctor, Jose Caldas, racing Mussulo 40 (named after the peninsula off Angola where he got married).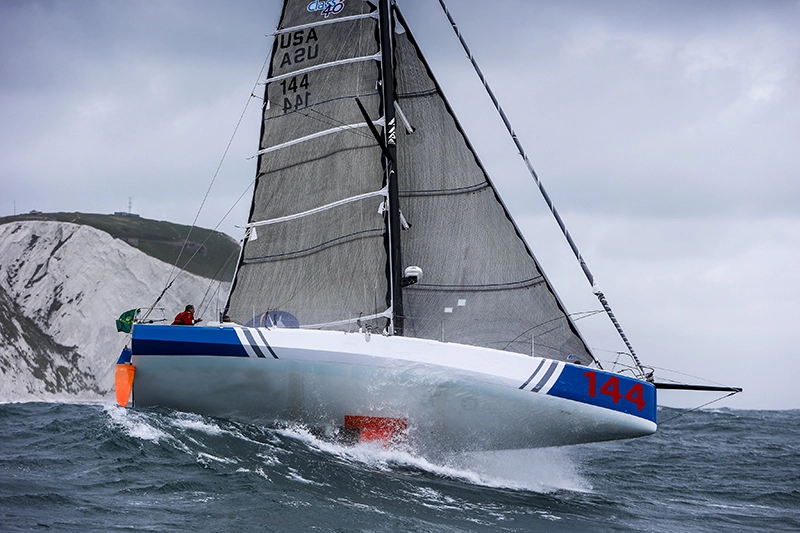 Nonetheless it is a shock that the current two leaders of the 2023 Class 40 Championship are not French, but Italian – Ambrosio Beccaria with his Alla Grande-Pirelli and Alberto Bona's IBSA. In fact with Alister Richardson and Brian Thompson's Tquila currently fifth, at present only two French boats are within the top five.
Since finishing second on her first outing in last autumn's Route du Rhum, Beccaria has this year won the CIC Normandy Channel Race and come second in both the RORC Caribbean 600 and Défi Atlantique. Impressively, Alla Grande-Pirelli is also fully Italian – a Musa 40, designed by Gianluca Guelfi and launched last year by Sangiorgio Marine in Genoa. A second Musa 40 will also be competing – for Andrea Fornaro, the Rolex Fastnet Race will be the first race for his new Influence2. A third Italian, Alberto Bona, will be racing a French design – IBSA is a Sam Manuard-designed Mach 40.5. Bona comes fresh from winning the doublehanded Les Sables-Horta-Les Sables.
Another joy of the Class40 is the number of designers still actively involved in the class. In the Rolex Fastnet Race for example there are seven and this is partly because, far from slowing down given the age of the class, the rate of new builds is actually speeding up: More than half the Rolex Fastnet Race fleet are less than three years ago.
They include the Marc Lombard-designed Lift 2, one of which won last year's Route du Rhum. Another – Marc Lepesquieux's Curium Life Forward – is competing in the Rolex Fastnet Race. So too is William Mathelin-Moreaux's Dékuple, a Clak 40 from prolific multihull and IMOCA designers VPLP.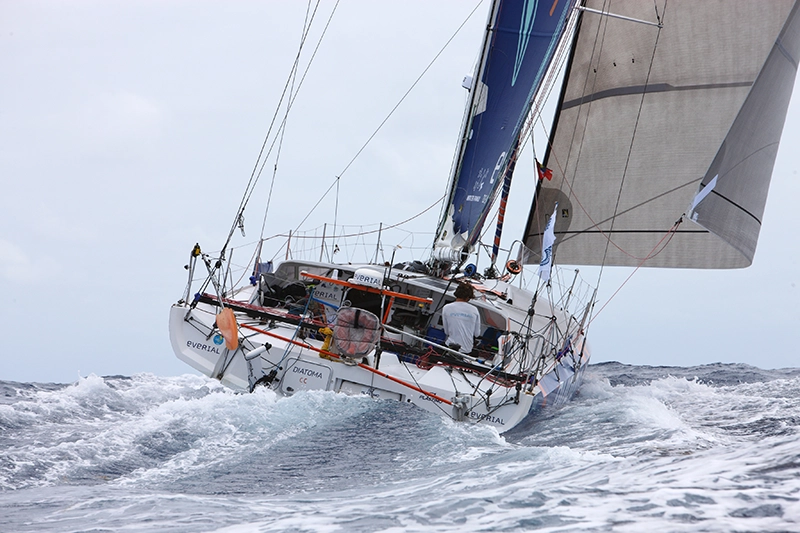 There are three of the latest Pogo 40 S4s, designed by Emirates Team New Zealand's Guillaume Verdier. They are Thimoté Polet's Zeiss-Weeecycling, Erwan Le Draoulec's Everial and, the latest, for 24-year-old German former Melges 24 and Mini sailor Lennart Burke. Two older Verdier designs are also racing in Paul Brandel's Tizh 40 Eden Park – Les Papillons du Ciel, and Kieran le Borgne's Earwen, a 2009 Tyker 40.
Pierrick Le Touze from Cherbourg is on Zeiss-Weeecycling as a warm-up for the Transat Jacques Vabre with Polet. In 2021 he raced aboard Raging-bee² to third place in IRC 3. Of the Rolex Fastnet Race he says: "It's really great to be arriving in Cherbourg and it adds a bit of spice crossing the Raz Blanchard [Alderney Race]. There are some very strong currents and that can change the outcome right until the last moment. The course is intense, and we're probably going to set all the sails over our four or five days at sea."
One of the rising stars of short-handed offshore racing is another ex-Mini sailor, Amélie Grassi, one of two female skippers taking part. Grassi sailed part of the Ocean Race on board Biotherm and on Saturday week will be racing the sole Max 40, from pioneering designer-sailor David Raison, best known for designing and then racing the first extreme scow to victory in the 2011 Mini Transat.
Another Mini designer/sailor is Etienne Bertrand who has two of his Class 40 Cape Racing Scows competing: Laurent Camprubi's Jeanne and lawyer Renaud Courbon's THE3BROS.
But best represented designer is Sam Manuard with his Mach 40s. They are now up to version 5, all manufactured near La Trinité-sur-Mer by JPS Production (whose director Nicolas Groleau, is also back racing his Mach 45 Cartouche in IRC Zero). Four are the latest generation Mach 40s, including IBSA, plus Maverick of Pierre-Louis Attwell and ex-Figaro sailor Nicolas Jossier with La Manche évidence nautique. Lastly Tquila is being raced by former Olympic and America's Cup sailor Alistair Richardson and offshore racing legend Brian Thompson with owner James McHugh, (founding partner of Tquila, a London-based corporate development and technology venture firm).
They acquired their first Class40 two years ago but replaced it with their present scow at the end of 2022 and have since competed in the RORC Caribbean 600, Defi Atlantique and Normandy Channel Race. After years being a crew, Richardson says he wanted to run his own project. "I have just sailed for people all the time and so this was an opportunity to get a boat and a sponsor. The Class40 is a good boat to do this. I wanted Brian involved, because of his vast experience of doing offshore sailing, so I am learning from him. We are a good team and complement each other."
This will only be Richardson's second Rolex Fastnet Race, his last in 2021 aboard Jason Carroll's MOD70 Argo. "It is a good race – I am looking forward to it. It is not such a long race compared to ones I've done recently [he's just returned from a Transpac on the Argo MOD70] but there are a few corners and manouevres and plenty of tide and the finish in Cherbourg to think about – especially when you're in a slower boat."
Meanwhile former IRC European Champion Christophe Cremades has an older generation Mach 40.4 Enjoy Racing 2 and American economist Greg Leonard is campaigned his Mach 40.3 Kite. Leonard will race with Vendée Globe skipper Miranda Merron and his capable son Hannes, now 19, who sailed his first doublehanded overnight race with his father when he was just 13 and now has many 1000s of Class40 miles in his wake.
Entirely new to the Class40, but very familiar name in RORC circles is Carlo Vroon who is racing the Mach 40.1 Trimcontrol. This follows the recent passing of his father, Piet, well known for his decades of enthusiastic yacht racing, including overall victory in the 2001 Rolex Fastnet Race with Tonnerre de Breskens. "There are a few of the old crew that wanted to do a Fastnet Race/Cowes Week in honour of the old man," explains Carlo, for whom this will be his first experience of the Class40. "I am looking forward to it tremendously. It will be a bit of fun." While he may be new to the boat, this will be Carlo's 11th Fastnet and he is anticipating a faster ride than in 2021 when he raced on RORC Admiral Mike Greville's Bowman 44 Skadi.
Back in the first decade of the class, one of the most prolific makes of Class40 were the Tunisian-built Akilarias designed by Marc Lombard. In the Rolex Fastnet Race there are three, including the Akilaria RC2s Franz Bouvet's Yoda and Cantaloop 40 of British shorthanded sailor and one-time manufacturer David Rowen. Racing a newer 2012 vintage RC3 For My Planet is Julia Virat.
Compared to her competition Virat has a rather different background, professionally being a mountain guide. She discovered sailing in 2020 during the Trophée Mer et Montagne, when she met several professional skippers who offered her the chance to sail with them. As a result she took part in the 2021 Rolex Fastnet Race and Transat Jacques Vabre with Morgane Ursault-Poupon. She now has her own boat and has moved to Cherbourg-en-Cotentin to be closer to it, but is still money-hunting to get on to start of the Transat Jacques Vabre. Among her crew will be Louise Duval, also from Cherbourg. "The Rolex Fastnet Race is a legendary race," she says. "There are almost 500 boats – which is extraordinary. It's a course that I love, with all its complexity and currents. The format is interesting because it's very demanding – over four days, you have to give it your all. I now live in Cherbourg and that makes it all the more meaningful to me."
The Class40s race boat-for-boat without handicap and the first to Cherbourg will receive the Philip Whitehead Memorial Cup.