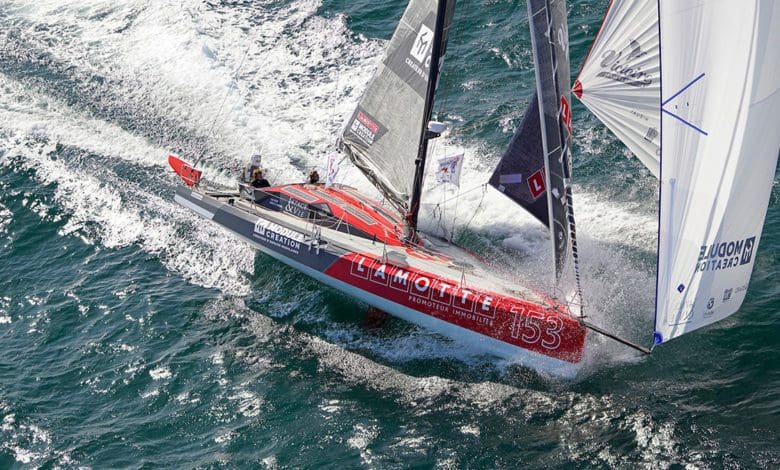 At 06:50 (UTC) this morning, while leading the Class40 fleet, British skipper, Luke Berry and his French co-skipper, Tanguy Le Turquais, informed the race management of the Transat Jacques Vabre Normandie Le Havre that their Class40, Lamotte – Module Creation, had dismasted.
Both skippers are safe and shepherded their boat to Roscoff, on the north coast of Brittany, where they arrived at 16:00 (French time).
The incident came just 18 hours after the start yesterday at 13:15 (French time) from Le Havre in what appeared not to be boat-breaking conditions.
"Around 07:00 (French time), before sunrise, we were downwind in an easterly wind under medium spinnaker with two reefs, we were not overloaded, and we were in manageable conditions," the 33-year-old Berry said. "We pitched a few times before the last one…I was in the bunk, Tanguy (Le Turquais, co-skipper, 30) was at the helm. We don't understand it, the conditions weren't terrible. We recovered everything, we left nothing in the sea, the top of the mast went, then it broke in half. We managed to get everything back in the boat. We're on our way to Roscoff. We 're really disappointed for everyone (involved in the project) especially since we were in the lead at that time."
Like most of the 118 skippers, Berry had an emotional send off from the pontoons, saying goodbye to his wife Camille and their two and a half-year-old son, Charlie and six-month-old daughter, Lou. If racing is one test of sailing, good seamanship in a crisis is another and Berry and Le Turquais showed their mettle and craft by keeping their project alive and getting the whole boat to safety.
British hopes in the Class40 now rest solely on the shoulders of Sam Goodchild and his French co-skipper, Fabien Delahaye, on Leyton, who were leading at the 15:00 (UTC) ranking.