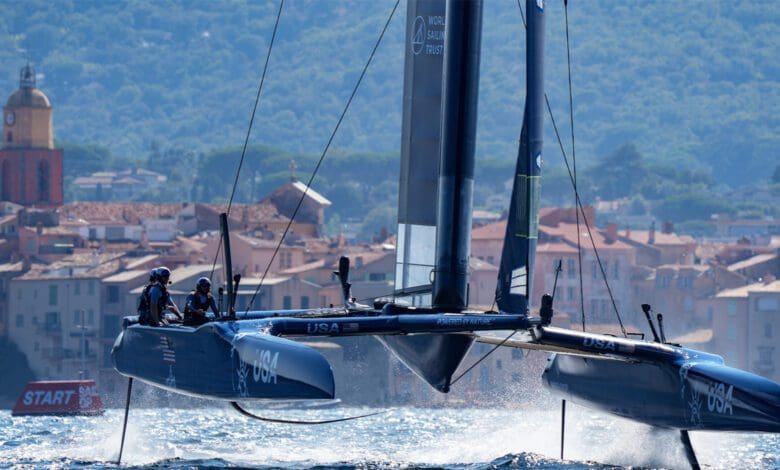 May was an incredibly exciting month for sailing fans as Mati Sepp and his Clean Energy Match Racing Team took the win at the Porto Montenegro Match Race, Tom Slingsby continued his impressive run of form winning Sail GP Bermuda and 66 boats crossed the start line in Harwich in RORC's North Sea Race. June looks to be full of equally thrilling sailing action and in this article we will be giving sailing fans a quick rundown of the events you can't miss. To find out more about the sailing events in June 2022, visit Fixture Calendar to make sure you don't miss a single start, first beat or finish.
O.M. International Ledro Match Race, Ledro, 16th – 19th June
Following an understandable lack of match racing events during and following the pandemic, it is great to see this exciting and gladiatorial discipline of sailing coming back stronger than ever. After tightly fought battles in California, Poland, Montenegro and Finland, some of the world's best match racers will head to Sweden and then Italy for both the GKSS Spring Cup and the O.M. International Ledro Match Race. The latter is one of the most picturesque events on the World Match Racing Tour Calendar and will see teams battle it out in J22s. The light winds characteristic of Ledro will require a deft touch from the sailors as they try to ensure they keep their boat moving while making sure they have control of their opponents. Who will come away with the win on this stunning Italian lake?
Round Ireland Race, Wicklow to Wicklow, Starts 18th June
The Round Ireland Race, held every two years by Wicklow Sailing in association with the Royal Irish Yacht Club and the Royal Ocean Racing Club, is the pinnacle of Irish offshore sailing. The 704 nautical mile race has already attracted an impressive fleet of 49 entries and competitors will be itching to get underway. While the course sounds simple, 'leave Ireland and all of its islands, excluding Rockall, to starboard', it will be anything but for the teams taking part and will undoubtedly leave navigators with a number of difficult decisions to make. While it is difficult to predict who will be at the front of the fleet on corrected time, there are a number of boats to keep an eye out for. Green Dragon and Lance Shepherd's Telefonica Black, two Volvo 70s, are certainly in the running for line honours and it will be exciting to see who manages to come out on top. With battles likely to rage throughout the fleet, this is not a race to take your eyes off.
Sail GP United States, Chicago, Starts 18th-19th June
Sail GP's F50 catamarans returned to the water in Bermuda in May, in what was an incredibly exciting opening event. While it was the familiar face of Tom Slingsby that ended the event on top, all eyes were on the Canadians, a new team for season 3 that put on an incredibly impressive performance to finish 3rd. While their performance shouldn't come as a surprise, especially with veteran match racer Phil Robertson on the helm, it certainly sent a strong message to the other teams competing for the title. Just over a month after the excitement of Bermuda, teams will head to Chicago for the second event of the season. The 'Windy City' is a new venue for Sail GP, but a familiar one for many of the sailors. With the racecourse in clear view of Navy Pier those local to Chicago have the best seats in the house. Can Slingsby and Australia Sail GP take a second consecutive win or will another team rise to the challenge against the backdrop of the Chicago skyline?