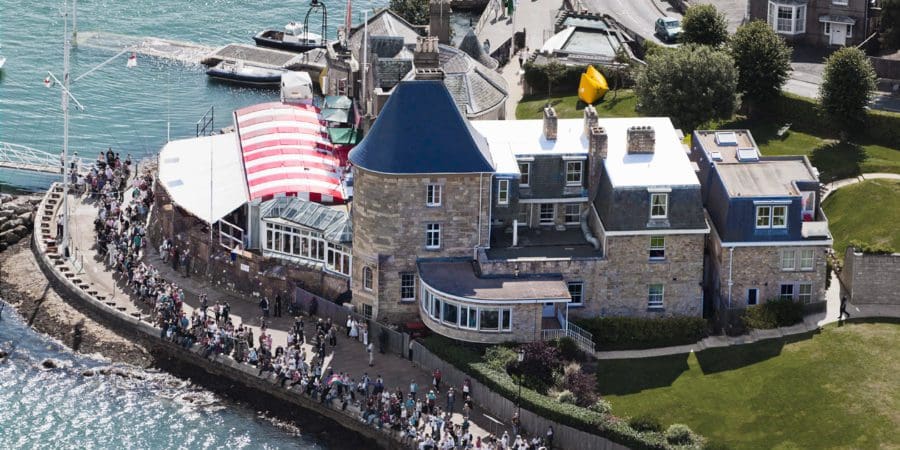 The Royal Yacht Squadron celebrated its bicentenary in 2015, coinciding with the 46th edition of the Rolex Fastnet Race.
Exclusive video of the bicentennial celebrations and interviews with the squadron's Commodore, Christopher Sharples, among others, bring to life one of the biggest yachting events in this influential club's 200 year history. The pioneering story of the RYS began in St James's, London, in 1815. Today, from its base at Cowes Castle on the Isle of Wight, this prestigious club maintains the highest standards, safeguarding its exclusive traditions while working to develop yachting.
What happened in 2015
With less than 80 days until the start of the Royal Yacht Squadron's Bicentenary International Regatta in Cowes, for some competing yachts, preparation is even more frantic than for others.
They are getting ready for the Transatlantic Race which starts in less than two months from Newport RI, and are headed towards the UK bringing them closer to the RYS Bicentenary start line in Cowes, England. Amongst those going the extra few miles to be in the line-up, when the regatta celebrating the club's 200 years starts on 25th July, are the beautiful S&S ketch Dorade built in 1930, McCurdy & Rhodes 48' Carina and Swan 57 Noonmark V.
None of the three are any stranger to long distance racing. In fact despite being a lady of a certain age, Dorade carries her 39ft waterline length, 53ft overall, to ever new achievements. 2015 will see her take part in another Transatlantic Race and another Fastnet Race, just as she did both in 1931.
From Newport RI to Cowes is a long way but, along with the rest of the now nearly 70 strong fleet, it will be worth being part of the dramatic line up of modern, ultramodern and vintage yachts including four of the magnificent J Class, vying on the Solent start line in front of the Royal Yacht Squadron Castle which dominates the water's edge at Cowes.