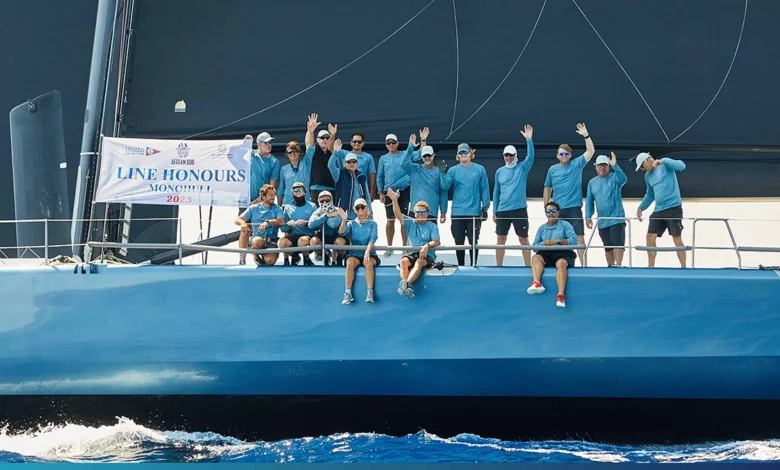 Thanks to its famous Meltemi, the third edition of the Aegean 600 this week galvanised its reputation as one of the windiest of the world's 600 mile offshore races. Particularly over the first night as the 11 maxis, at the head of the fleet of 46, tackled the southern part of the course, competitors were regularly seeing 30-35 knots, some reporting gale force gusts of 40+.
Organised by the Hellenic Offshore Racing Club (HORC) and co-organised by the Region of Attica, Olympic Marine and the Deputy Ministry of Sports, the Aegean 600 was the penultimate in the International Maxi Association's 2022-23 Mediterranean Maxi Offshore Challenge.
As usual, the Aegean 600 set sail from Sounion, at the bottom of the Attica peninsula, in the shadow of the Temple of Poseidon at 1400 local time on Sunday. But just moments prior to the start there was one high-profile casualty when the mast track on George Sakellaris' Maxi 72 Proteus was damaged as they attempted to hoist the mainsail. "We are not sure how it happened," admitted tactician Gordon Maguire. "Maybe one of the battens caught in the runner and twisted the car and sheered some of the track off. It was a bit of a shock." Sakellaris not being one to accept defeat, Proteus will very likely be back next year.
This left the fight for first between the Farr 100 Leopard 3 and the VO70 I Love Poland, winner of the IMA's 2022 Caribbean Maxi Challenge. Leopard 3 has competed in many of the world's severest offshore races but on this occasion was two weeks out of a major refit, sporting a new rig, rigging and winch package. Meanwhile the VO70 I Love Poland, which finished third in the 2011-12 Volvo Ocean Race with Puma Ocean Racing, built to race round the world, had no excuse for hesitancy. As a result for most of the first day I Love Poland hung on to her larger rival. 24 hours in, rounding the north of Rhodes (the site of the Colossus of Rhodes), I Love Poland had closed to three miles of her longer rival with a 65 miles cushion behind her to the second cluster of maxis and comfortably leading the Maxi class under IRC.
But Leopard 3 then extended through the next tricky upwind section, her lead enlarged when I Love Poland stopped on the westbound leg off Ikaria en route to Mykonos. At this point, she was still leading under IRC, despite Leopard 3 being 45 miles ahead. However, the wind gods were not smiling on the Poles who, just 300-400m short of the finish line were becalmed for 45 minutes. Ultimately I Love Poland finished 5 hours 22 minutes after Leopard 3 and by 1 hour 22 minutes under IRC.
Polish skipper Grzegorz Baranowski felt they had been unlucky and his thoughts on the race were mixed. "We saw 35 knots two or three times – 25-27 knots on a VO70 is super wet, super fast and super fun. We made a few mistakes, but we didn't lose any sails and the boat and everyone are still in one piece." Their biggest frustration was being unable to predict the localised wind. "You round thousands of islands and each has some surprises. It is a beautiful race, passing Santorini at night with all its lights but the weather forecast you can leave at home. You have to be ready for everything. We made maybe 30 or 40 sail changes. At times we had all the sails on deck trying to find the right one. It was a beautiful race, but tricky."
Leopard 3 crossed the line at 11:05 on Tuesday 11th with an elapsed time of 45 hours 5 minutes 25 seconds, demolishing the previous record of 63 hours 2 hours 20 minutes set last year by the Elliott 52 Rafale. With line honours and a course record bagged, Leopard 3 is also in good shape to score 'the triple' winning IRC corrected time honours as well, not just in the Maxi class but across the entire IRC fleet, where it seems that no other boats will challenge the corrected times of the two leaders.
"It was a full-on adventure trip!" reported Leopard 3 tactician Mitch Booth. "There was a lot of wind, a lot of corners – it is a really nice course, a great event. We saw 37 knots on different parts of the course and nasty chop. The first night was fruity – gybing a 100 footer in 30+ knots is always entertaining. Fortunately there are many people on Leopard who have been through that before. There were a couple of times we had to back off, and slow the boat down because we didn't want to destroy everything." At one point they saw 30 knots of boat speed. "You knew you're alive for sure!"
By the time the second peloton had reached the northern tip of Rhodes, I Love Poland was already 75 miles ahead. At this point Guido Paolo Gamucci's canting keel Mylius 60 Cippa Lippa X was third on the water ahead of the Marten 72 Aragon and Jean-Philippe Blanpain's Vismara Mills 62 Leaps & Bounds 2. 22 miles behind them was Italian America's Cup team principal Patrizio Bertelli's Frers 105 Ulisse with the Swan 112 Eratosthenes a further 17 miles back.
On the next upwind section the waterline length of the supermaxis came into its own and they recovered ground, especially when those ahead were short tacking up to the northeast turning mark of Agathonísi. The boats ahead then bore away to Mykonos but then slowed again as they passed through the channel. By this time Ulisse was just 7 miles behind Leaps & Bounds 2, which had lost contact with Aragon and Cippa Lippa X.
At this point, the navigators had to decide to leave the small island of Giaros to port or starboard. Aragon chose the former and parked as those opposite made marginally better progress. Again size, plus a crew of former Luna Rossa America's Cup heavyweights, prevailed with Ulisse overtaking Leaps and Bounds 2. Rounding the last headland off Kea, Cippa Lippa X was still ahead, with Ulisse now just three miles astern. Here all four parked again, allowing Eratosthenes to catch up. Breaking north, Ulisse was first to find the breeze, steaming home third on the water, 39 minutes ahead of Cippa Lippa X; with Leaps & Bounds 2 another 23 minutes behind; followed 15 minutes later by Aragon and almost another hour later by Eratosthenes, which due to her favourable rating slipped ahead of Cippa Lippa X to take third in the Maxi class under IRC corrected time.
Eratosthenes tactician Andrea Casale commented: "It is a great course with great mythology and it is one of the few windy races in the Med thanks to the Meltemi. As usual it was super windy down at the bottom of the course before Kassos -we were going downwind in 30 knots. To leeward of Kassos, you get this catabatic wind so you are reaching on port tack in 40+ knots. We saw 45 knots! But like all of the teams we had prepared for that."
Casale said that the most challenging part of the race was the zigzagging upwind through the islands. "Behind some there is a big shadow and on some you have to play the shift. Everywhere you have to make smart moves. This year there was a big wind shadow south of Ikaria where we stopped and were unable to manoeuvre. But the race was decided in the last 20 miles."
On Leaps & Bounds 2, tactician Michele Regolo said that they found themselves tackling all conditions and every point of sail. "Downwind to Kassos [on the first evening] we had amazing surfing and hit 28 knots. It is a beautiful, fantastic, incredible race but it is also hard because it is tough sea and strong winds. It is not a game, but a pleasure for sure." On board the wind exceeded 40 knots at which point they were under three reefs and J4.
After this they settled back into racing their rivals. "In some conditions we were faster downwind and in others, like reaching, we were slower. It was a very big fight," concluded Regolo.
The 2022-23 IMA Mediterranean Maxi Offshore Challenge will conclude in August with the Palermo-Montecarlo.