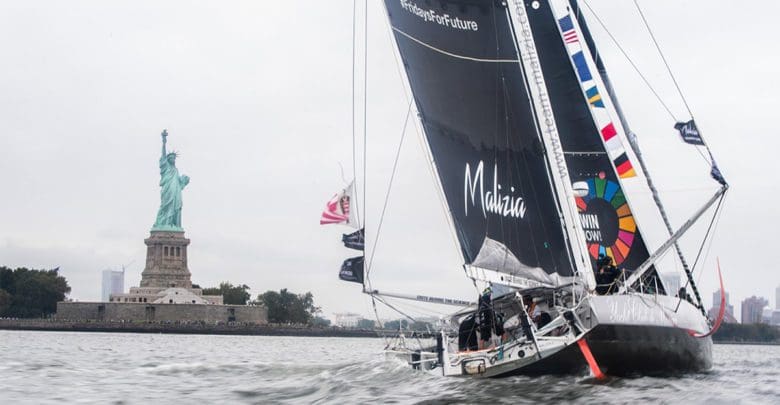 Teenage climate activist Greta Thunberg sailed into New York Harbour on Wednesday in a zero-carbon emissions vessel, completing her 14-day journey from England to take part in a United Nations climate summit in New York next month.
The Swedish teen opted to make her Atlantic crossing by sailboat as a way to make her travel zero-carbon. Skippered by Yacht Club de Monaco vice president Pierre Casiraghi with Boris Herrmann, the 18 meter Malizia II set sail from Plymouth on August 14. Both sailors donated their time and skills in order to help Thunberg cross the Atlantic without having to take an airplane.
During the transatlantic crossing, Greta Thunberg was accompanied by her father Svante Thunberg, and filmmaker Nathan Grossman of B-Reel Films, who is documenting the voyage.
In addition to the UN Climate Action Summit in New York, the activist intends to join the COP 25 climate change conference in Santiago, Chile, in December.
Greta said she would also be traveling to Chile without flying, using trains, buses, and possibly another boat.
She added the summits have to be "a breaking point" and that she was "going to do everything I can to make sure world leaders have all eyes on them so they cannot continue to ignore this".