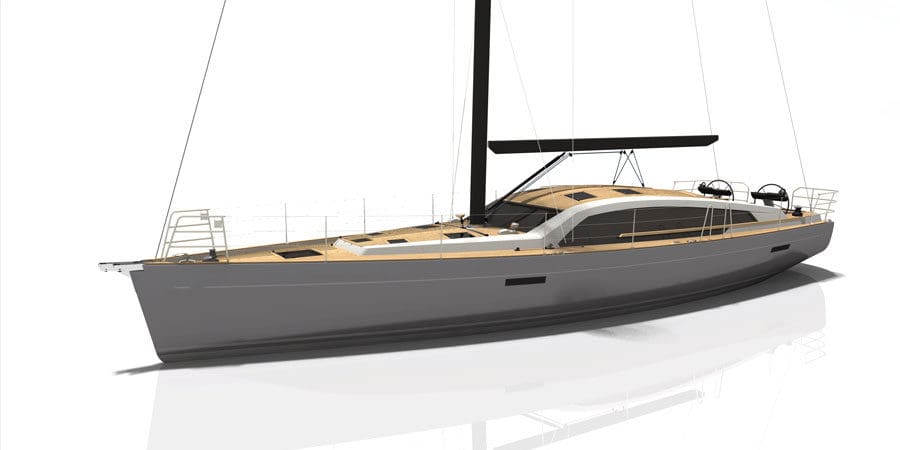 A perfect blue water cruiser, the Pilot Saloon 58 is the quintessence of Wauquiez' expertise in terms of conception and high-end yacht building. The ''Pilot Saloon'' concept, launched by Henri Wauquiez over the last 20 years, continues to attract many sailors looking for a versatile sailing yacht, matching every sailing program and offering comfort, brightness and high performance.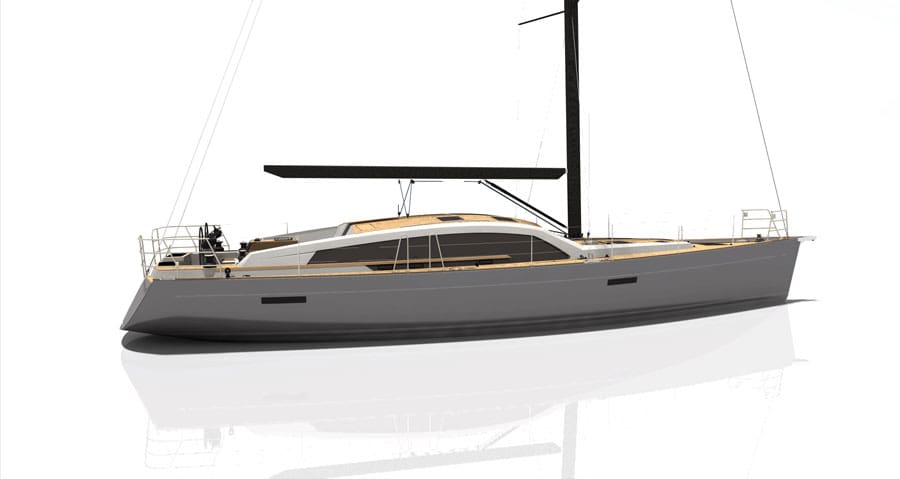 A sleek-lined roof, large side windows underlined with a natural teak louver – a trademark of the « Pilot Saloon » range – have been extended at the aft to optimize visibility and brightness aboard. The opening portholes allow for excellent ventilation.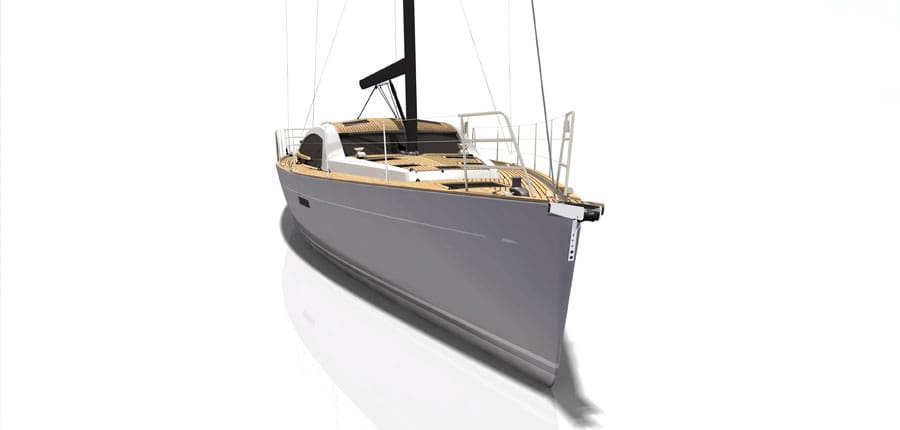 The hull, designed by French studio Berret-Racoupeau Yacht Design, is powerful and well-balanced. It has been built to endure the harshest sailing conditions. Equipped with a 2,30-meter bulb keel, the Pilot Saloon 58 is stiff and efficient in all points of sailing. 2 optional keel drafts are available: 2.10m and 2,50m.
An opening platform at the transom enables easy access to the tender garage.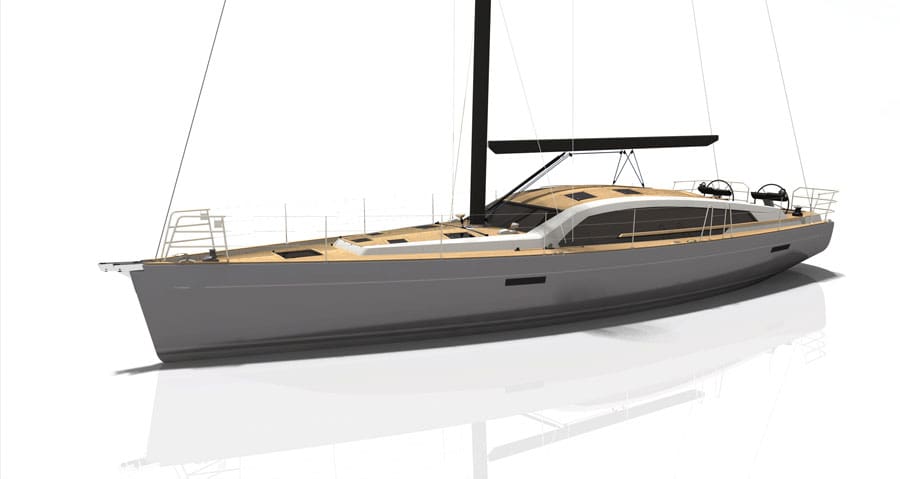 The sleek lines of the roof emphasize the yacht's thoroughbred style. The uncluttered deck offers great visibility forward thanks to the flush deck hatches and the control lines lead aft to the cockpit. Several options of teak battens are available to match each owner's use and style criteria.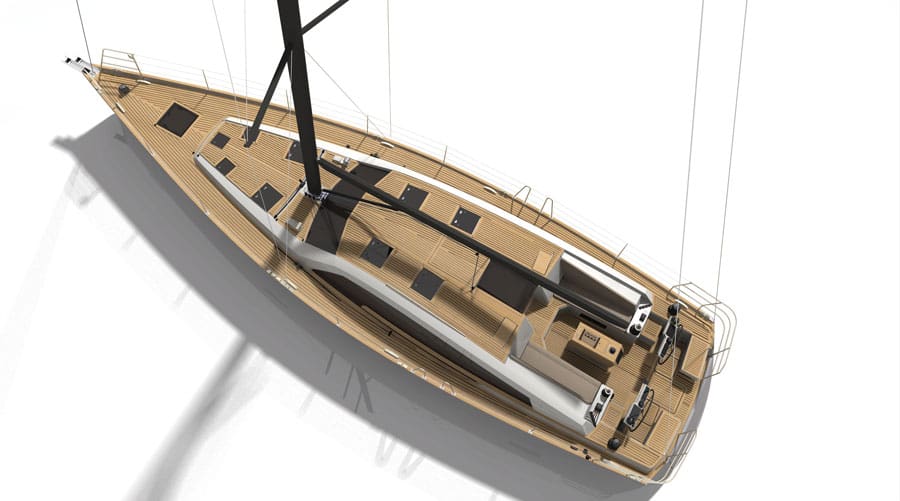 The helm station is equipped with all necessary assistance for single-handed sailing: the oversized winches are accessible from helm station. A « German system » main sheet, control lines lead aft to the cockpit, a self-tacking track can be integrated (option). 2 lockers and access to the tender garage at the helm station allows for easy access of the gear and 2 retractable back feet have been designed to ensure more stability and maximum sailing comfort.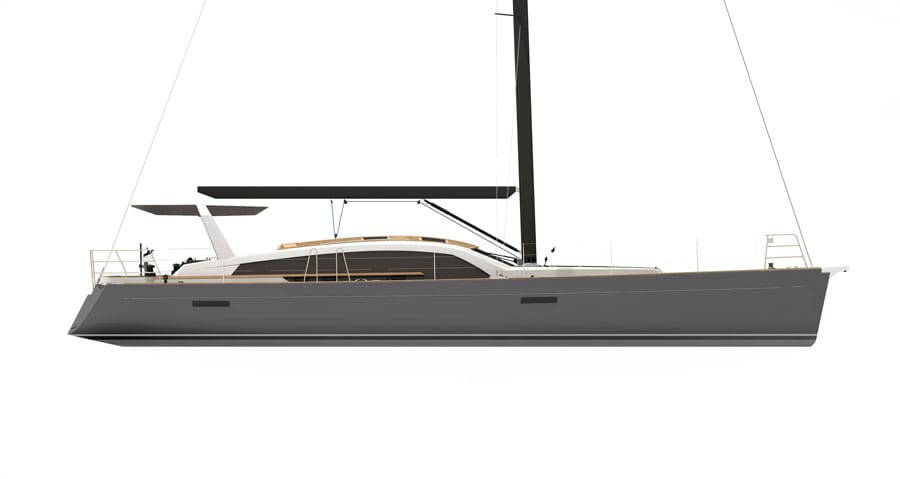 Fully equipped with Andersen's stainless steel winches, Harken's Performance rigging and Dyneema's running rigging. The Pilot Saloon 58 deck hardware is focused on performance and has been selected for its very high quality and efficiency. The 22 m mast guarantees efficiency and accurate handling. The 9/10 rig has wide angled spreaders and no running backstays.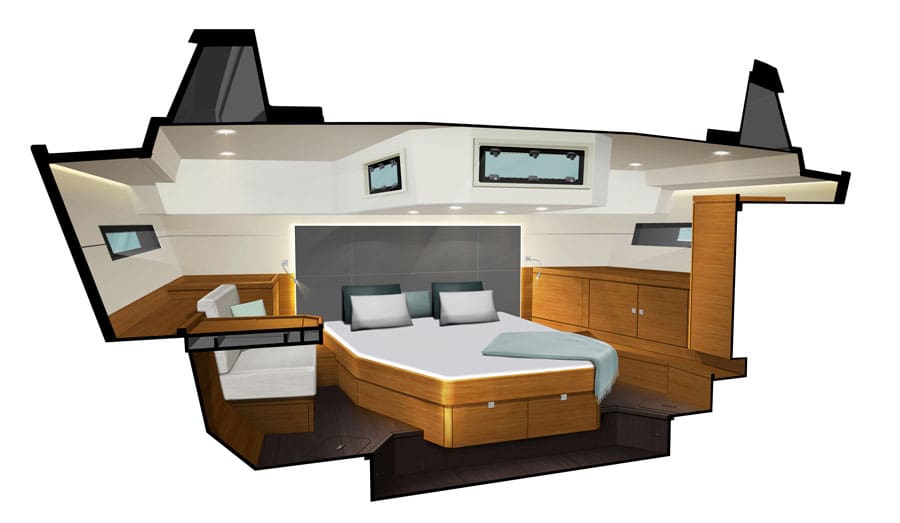 True to the genuine ''deck saloon concept'', the saloon is on one single level and enjoys optimal light. While sitting, the windows offer great panoramic sea views. The interior volumes have been optimized to offer amazingly comfortable living spaces. The saloon is equipped with reading lights and lighting chains under shelving. The handrails on sealing and along the settee allow for maximum safety on board. The galley, located to port, features a great number of storage cabinets and all the comfort necessary to long journeys.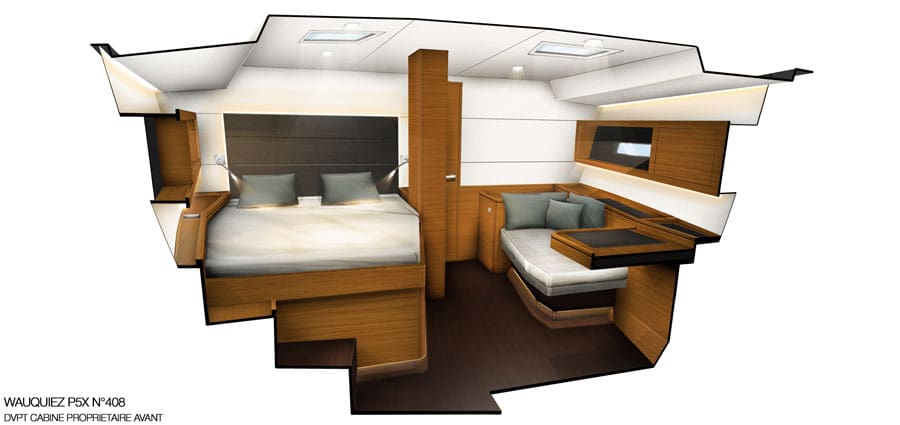 The waxed teak used on all Wauquiez remains the dominant interior feature, while other materials (leather, stainless steel) give the Pilot Saloon 58 her thoroughly refined and modern style. The owner's cabin is large, with a lit cabinet; its ensuite bathroom features a separate shower. Very large hull portholes bring brightness, and wide opening portholes allow for great cabin ventilation.
TECHNICAL SPEC
Berret-Racoupeau Yacht Design
Length overall 17,70m / 58'1″
Length at waterline 15,60m / 51'2″
Maximum beam 4,95m / 16'3″
Standard keel draft 2,30m / 7'7″
Shoal keel draft 2,10m / 6'10″
Deep keel draft 2,50m / 8'2″
Main sail 79m2
Genoa 54m2
Gennaker 111m2
Spinnaker A 187m2
www.wauquiez.com