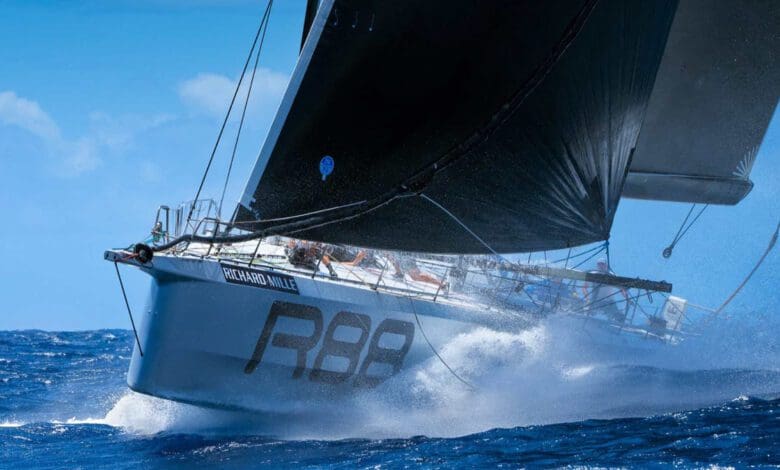 This Wednesday, the third day of competition for the 11th edition of the Voiles de Saint Barth Richard Mille, the maxis had an appointment for the Richard Mille Record Trophy with one objective: to break the 2018 time over a 47-mile course between Saint Barth and Saint Martin. Propelled by the easterly trades blowing between 15 and 20 knots, Rambler 88 finished first but missed beating the record they established in 2018 (3 hours 01 minute and 58 seconds) by 16 minutes.
The other classes (Offshore Multi, Multihull CSA, CSA 1, 2, 3, 4, 5 and 6 then the Diam 24 OD) raced around-the-island courses, with the majority of leaders continuing to solidify their positions at the top of the leaderboard.
"If it was yesterday I think we would have broken the record, but we needed another five knots of breeze to make that happen," said Brad Butterworth, Rambler 88's tactician. "That, plus the sailing angle down to Saint Martin was a little bit wide for us, coupled with conditions right in the 'grey area' between sail choices. But, that's sailboat racing; and it was still a great day sailing."
He gives full credit to owner/driver, 80-year-old George David. "George did a great job driving and sails the boat very well," said the four-time America's Cup winner. The guys love sailing with him; we're a lucky team."
In his fourth time racing here at Les Voiles, Jim Madden's Swan 601 Stark Raving Mad VII so far has a clean sweep across CSA 3. But, Madden isn't taking anything for granted given the challenging conditions. "So far so good, and there is a little bit of luck involved," he says. "But between the waves and the chop, the shifty and puffy winds, you can wipe out pretty easily.
As you come nearer the finish and closer to Saint Barth, the wind is incredibly shifty. It can literally be a 30-degree difference within 100 yards of two boats. And then it's like somebody throws a switch and it shifts again so the boat does an auto tack."
Should the forecasted lighter winds come to fruition for Friday and Saturday, Madden says they could have their work cut out for them. "If the conditions lighten and the sea state settles down we are pretty comfortable. But if it's still lumpy and there is not as much breeze, that will be tough. We are a heavy boat, that won't be fun; it will be very challenging for us."
Nicolas Ramis, tactician for the Diam 24 OD Crybaby, which is leading the one-design trimaran class in its first appearance at Les Voiles de St. Barth Richard Mille, echoed Madden's sentiment about the challenging conditions.
"The conditions were good today, but quite difficult," said Ramis. "During the first beat up to Salines, the wind was very unstable, both in strength and in direction. The reach that followed was not easy to manage because of the sea state – we were covered many times by waves. It was a big mess but after Coco's passage [east side of Saint Barth], we managed to set the spinnaker and had a great time surfing downwind."
In the CSA Racing Multihull class, one team is thoroughly enjoying themselves and took their first class win today. Addictive Sailing, the TS5 catamaran skippered by Frenchman Brieuc Maisonneuve, sits in second place overall.
"We took advantage of very nice conditions for the round the island race today and since the crew had drunk less than on the other days, it was better!" he laughed. "It was a very tactical race and our tactician Lionel Péan did a great job sending us to the north between the islets before we turned downwind for a great ride.
"We had hesitated a little to put the big new spinnaker up the two previous days, but it was a success. Team Arawak is going very fast and it's led by guys who know the area well. We are obviously happy to have finished ahead of them and that motivates us to beat him again on Friday and Saturday!"
Thursday is the regatta's signature Day Off at Nikki Beach. Racing resumes Friday and concludes Saturday.
20 April 2022
2022 Les Voiles de St. Barth Richard Mille: Battle Lines Begin To Take Shape
Yesterday's first day of racing at Les Voiles de St. Barth Richard Mille lived up to all its promises, and today was the same and more for all the crews. Already, early results point to the intense competition taking shape across the classes, maxi to multi, and everything in between.
Kicking it off in CSA 1, Maximilian Klink's Botin 52 Caro and TP52 Jolt 3, owned by Peter Harrison are early contenders for a great rivalry in the front of the pack, with Caro just edging Jolt 3 at the finish today. According to Justin Ferris, Caro's main trimmer, the two teams are thoroughly enjoying the close competition.
Caro is eager to erase the memory of the last time they raced in Les Voiles in 2019 when a collision with Selené, Wendy Schmidt's former maxi, ended both boats' regattas. The Caro team is here this year with a new boat, built during the pandemic and which Ferris says they are still learning.
In today's 28-mile race, Jolt 3 had the edge early on with a better start and a strong first downwind. Caro was able to stay in close contact, which set the two up for a tacking duel as they got to the backside of Saint Barthelémy. "We must have done 30 tacks and it was boat-on-boat the rest of the way around," said the four-time Volvo Ocean Race veteran. "We were just able to roll past them at the last island turning mark thanks to a slightly faster sailing angle. It was just enough to get through them and get away."
In the Offshore Multihull class, the close competition continues with Mach Schnell, the Gunboat 62 owned by Kent Haeger and Greg Slyngstad's Bieker 53 Fujin. The two teams have lined up over previous editions, and according to Mach Schnell's Dave Allen, the team relishes the close racing with the well-sailed catamaran.
The Gunboat currently holds the edge with two first-place finishes, no doubt helped by past Olympian Annie Haeger (470 class) calling tactics and who splits the driving with her father, Kent.
Mach Schnell did not make today's win easy, as a timer malfunction had them begin the race almost a minute late. "Starting so late, we had our work cut out for ourselves and had to fight our way through the whole pack of boats," Allen said. "We chased Fujin the whole way; it's hard to get past those guys. Plus with the bigger seas, you had to be very strategic on which way you sailed. It was much harder on one board, both upwind and downwind."
Looking ahead to the rest of the week, Allen is looking forward to more close racing. "But if we do our job and sail well, we should be OK. However, if we give anyone an inch of slack, we will be in the back of the pack."
In Racing Multihull, Chaud Patate, a F40 trimaran owned by Christophe Cols is currently in second place behind Team Arawak, a Jobert-Nivalt 52. The big wind and waves suited him perfectly. "It was a great day. We peaked at 21 knots, and had a good battle on the first leg with Team Arawak and we are super happy with how we performed.
It's a new boat for him, and while they raced in the St. Marteen Heineken Regatta, he admits they weren't quite ready. "Les Voiles is our first real race. We are getting more comfortable with the boat and now starting to have some fun."
In CSA 6, Blue Skies, a JPK 10.30, finished today's race in second place but still holds the overall lead in the class thanks to a solid win yesterday. French skipper Gérard Quénot says, "Today was similar conditions to yesterday, but with a little more swell. We got off to a good start this morning, on the right side of the line and then we were able to play our game while managing the biggest boats of the other classes."
"Like yesterday, we crossed the finish line in the lead but unfortunately not with enough distance over the Melges 24 Team Island Water World to save our rating. We are fighting against the clock but the boats are so different that it is not easy."
Quénot credits the downwind speed of the Melges, making it impossible to match up against. "Upwind, we go faster than them, but downwind, they sail two knots faster than all the other boats."
Alicia Girault-Cruz, LATAM & TR Americas Marketing and Communication Director of Sisley: "We are happy to be here in Saint-Barth and have been waiting for this for two years. We are partners of Richard Mille at the international level and because of them we learned about Les Voiles de St. Barth Richard Mille.
"We all share the same values: passion, energy. We came to Les Voiles de St. Barth as a "sun" partner, with our specific products to support crews who find themselves exposed to the sun all day.
We know the harmful effects of the environment on the skin and Sisley has a magnificent sunscreen range, both for the face and for the body. A range that we are delighted to make known or rediscover to the sailors of the event and to all its fans. We've been lucky enough to be on-site this week and it's absolutely extraordinary! You can feel the energy of the sailors as well as the competitive spirit. Sailing is a team sport and it is a value that is dear to us at Sisley since we are a family business."
19 April 2022
2022 Les Voiles de St. Barth Richard Mille: A Superb Start
The 11th edition of Les Voiles de St. Barth Richard Mille is now underway, as race organizers sent competitors on multiple courses ranging from 16 to 28 miles that utilized the best of Saint Barthélemy's geography and signature sailing conditions in the easterly trade winds of 20 – 25 knots. Some teams were obviously more comfortable than others, but the action was indeed there in each of the 11 classes, setting the tone for a great week ahead.
One of the smaller boats in regatta, Niall Dowling's Arabella is a new Cape 31 currently leading the sporty CSA 2 class over Les Voiles de St. Barth Richard Mille veteran and class winner in 2019, the Melges 32 Lazy Dog owned by Puerto Rican Sergio Sagramoso.
"We're a little boat, so the upwind sailing is hard work, but the conditions today were fantastic," says Dowling, in just his third regatta with the new boat. "It was flat water for most of the racecourse, and going downwind we were hitting similar speeds as the wind."
It's been more than 20 years since the U.K.-based Dowling has raced in Saint Barth and it's even better than he remembers. "The racing has such beautiful scenery and it's pretty amazing going around the nearby islands that serve as marks around the course. You're right up next to some of the rock faces; it's pretty spectacular.
"Not to mention, we're used to sailing in cold weather and cold water, so to be in shorts and t-shirts enjoying a cold Heineken after racing is really special."
Another sailor marveling at the scenic but challenging courses is first-timer Rob Grant from Santa Barbara, Calif. He's racing onboard Pata Negra, a Lombard 46 in CSA 5. Chartered by skipper Bernie Girod and his longtime California-based J/111 crew, they raced on Pata Negra in the 2019 edition, finishing in second. The team returns again, starting today with a first-place finish in CSA 5.
"These are the most fun courses I've ever raced on," says Grant, who stood in today as helmsman while Girod recovers from an injury. "Being able to go around all these incredible land features as marks, it's just amazing. I'm blown away. I figured it would be good. But it's better."
Pamala Baldwin, who lives in Antigua, has raced Les Voiles de St. Barth Richard Mille many times and considers it her pinnacle regatta each Caribbean season. The last time the regatta was held in 2019, she and her J/122 Liquid team won the CSA 4 class.
"The regatta lasts five days. It's a marathon and if we have to settle for third place today, the gaps are only counted in seconds," says Baldwin. "It promises to be a great fight throughout the week."
In fact, Liquid is less than one minute on corrected time behind her competitors, Jokers on El Ocaso by John Maybury and Blitz by Peter Corr. The time difference is negligible in many other classes as well.
Among the Maxis, today's match was particularly close between Jim Swartz's Vesper and Hap Fauth's Bella Mente. The two maxis were battling it out and Bella Menteovertook Vesper on the first downwind leg of the 28-mile race, but after Bella Mente had a disastrous spinnaker drop, Vesper re-claimed the lead. Currently in third place is George David's Rambler 88, followed by Wendy Schmidt's Deep Blue.
14 April 2022
2022 Les Voiles de St Barth Richard Mille returns with record attendance
This Sunday, 74 teams and more than 1,000 sailors from around the world will take to the turquoise waters around Saint Barthélemy for the triumphant return of the 2022 Les Voiles de St Barth Richard Mille, April 17 – 23. No doubt the two-year forced absence has whetted the appetite and attracted even more sailing enthusiasts, eager to sail and socialize.
The increasing popularity of the multihull classes
In the port of Gustavia, home to the central race village for the 2022 Les Voiles de St Barth Richard Mille, co-founders François Tolède and Luc Poupon are busy making the final preparations to welcome the competitors of this 2022 vintage in the French island's signature classy yet casual way.
The increasing popularity of the multihull classes contributes to the event's strong numbers. "This is a trend that was already notable in recent years and continues to grow," says Tolède. "At 18 strong, the catamarans and trimarans represent a quarter of the fleet."
Among them, we find regulars like Greg Slyngstad's Fujin, who finished 2nd in the last edition in the ORCmh division; and also Mach Schnell from Kent Haeger, François Nel's Arawak, Jim Vos' Nala or her sistership, Brieuc Maisonneuve's TS 5 Addictive Sailing. Are expected also a slew of the three-person Diam 24 OD trimarans – Sylvain Corroy's Air Nest, Pierre Altier's Cry Baby, and Karibuni Pinel Islander and ADH14 – who will most likely have their own regatta within the regatta.
Speed and beauty
The fight promises to be just as exciting for the Maxis. A category in which we will find real racing beasts, such as George David's Rambler 88 who won the event in 2015. It is also a safe bet that Rambler 88 is a major customer for the Richard Mille Record Trophy intended to establish a reference time on a course of about 40 miles between the islands of Saint-Barth and Tintamarre.
The same goes for, among others, Terence Glacking's Prospector and Hap Fauth's Maxi 72 Bella Mente; or Vesper, owned by Jim Swartz, four-time winner of the event between 2011 and 2016.
"Susan and I have always enjoyed St. Barth, and so returning to sail was natural. It's by far the best culinary and fun experience in the Caribbean, and sailing there in April is paradise," says Swartz. "The race committee offers new routes every day that reflect the conditions of the day. We love figuring out the challenges as they unfold and trying our best to succeed with what is thrown at us."
Swartz has been a loyal fan of Les Voiles de St. Barth Richard Mille since the beginning, just like Wendy Schmidt, who returns to the regatta on board her new boat, the Botin 85 Deep Blue.
Upcoming matches at all levels
If the match promises to be close among the multihulls and the largest maxis, some great tussles are also expected among the Spinnaker fleets. Sergio Sagramoso's Lazy Dog and Pamala Baldwin's Liquid, both CSA3 and CSA4 titleholders, will obviously be competitors to watch closely, as will Andrew Hall's Pata Negra, Jeremy Peter Thorp's Phan, John Vincent's Wings who will certainly have their say at the forefront during the racing.
Others, the "newcomers," could well, however, play the spoilsports, like EH01 – Global Yacht Racing skippered by Andy Middleton; Maximilian Klink's Caro; Woody Cullen's Hermes; or Ice, skippered by Marc Pajot.
"After my first time in the last edition in 2019, I am delighted to return to the event aboard the Baltic 43 of my friend Hervé Margolis. I particularly appreciate the race which perfectly combines high-level regattas and a great social atmosphere. Although our boat will certainly not be the most efficient in the fleet, I am nevertheless very eager to race with my friends and not have to take the cold-weather gear in my luggage!" jokes Pajot, a 505 world champion, silver medalist at the Munich Olympic Games in the Flying Dutchman, three-time winner of the Multihull Trophy and winner of the Route du Rhum in 1982.