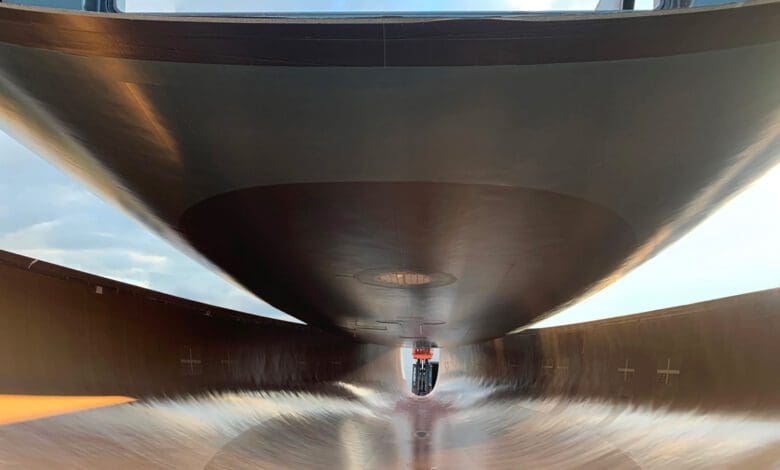 The sleek carbon hull of the new Wally101 supersailer was lifted out of its female mould. She is the fourth Wally for an experienced owner and inspired by the Wallycento box rule.
It is rare for one-off yachts at this scale to use female moulding, which is time-consuming to build. But it was the right decision because a female mould ensures a near-perfect exterior finish. As a result, very little filler was needed to fair the hull, further eliminating unnecessary hull weight – a critical part of the owner's brief.
"Our laminators have been with Wally since the brand's first days, and are among the best in the world. Their collaboration has helped us to develop techniques that bring the absolute best out of the high-end materials pioneered by Wally," says Wally Founder and Chief Designer Luca Bassani. "We are invariably confident that all those hours of painstaking preparation and work pay off. We are delighted to be one step closer to welcoming a fabulous new custom Wally into the world."
Wally101 weighs just 56 tonnes
Built using advanced pre-preg carbon fibre in a sandwich composite, the Wally101 weighs just 56 tonnes. That is some 20 percent less than yachts of similar size and capabilities and comes in spite of a host of labour-saving technology. This includes Wally's Magic Trim and Magic Traveller hydraulic systems. Astonishingly, 40 percent of her weight is from the lifting keel alone, promising eye-watering performance.
After demoulding, the hull was laid in a cradle and moved back under cover for the next stage of its transformation. Shipwrights are already installing the bulkheads that will divide up the interior space, with wiring, piping, tanks, and other engineering foundations while the lightweight carbon deck is currently in mould.