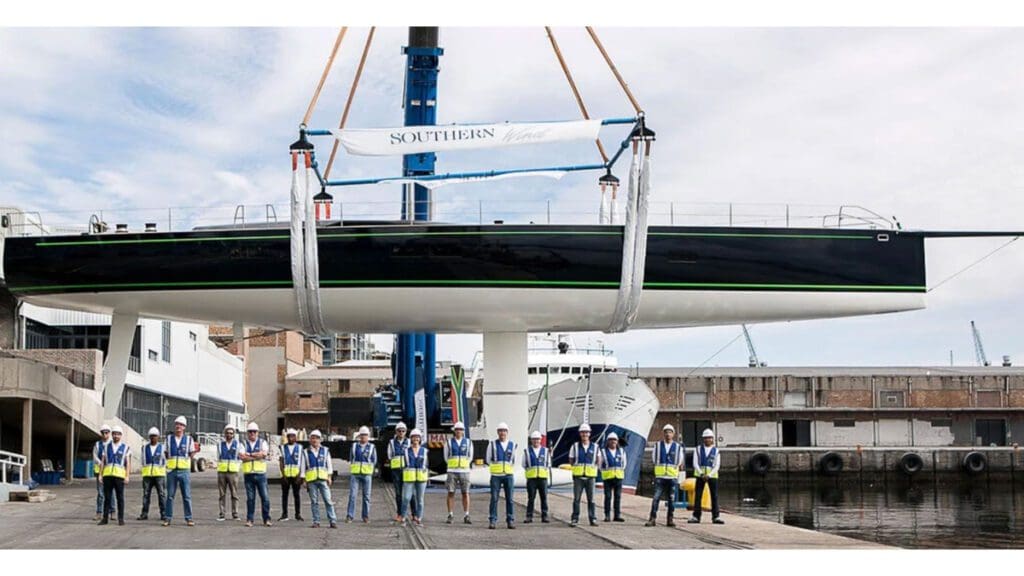 Born from the longstanding collaboration between Nauta Design, creators of the yacht's general design, exterior and interior, Reichel/Pugh Yacht Design, who penned the naval architecture and Southern Wind Shipyard, the builders, the RP-Nauta 100 was commissioned by an experienced and passionate yachtsman who was looking for a fast bluewater cruiser to sail comfortably around the world while also competing in the most renowned superyacht regattas.
The RP-NAUTA 100 is a new-generation project characterized by a strong focus on performance; her light displacement combined with a powerful sail plan makes for excellent speed in light wind conditions. The hull's inner and outer skins are in full carbon with a Corecell core while Nomex and prepreg are used for the fore and side decks, the aft cockpit and the fore and aft bulkheads. This lightweight construction method optimizes weight and increases performance and comfort. Morgana also features a lifting keel (4 to 6.1m), a single rudder, a Hybrid HR40 carbon mast and EC6+ rigging, transversal jib tracks and a removable racing bowsprit amongst other performance enhancing features.
Jim Pugh, President of Reichel/Pugh Yacht Design, commented: "The Reichel/Pugh team is very pleased to see the launch of Morgana, yet another chapter in our successful collaboration with Nauta Design and Southern Wind Shipyard. The SW-RP90 Allsmoke, launched in 2017 as a full custom yacht for SWS with interior styling by Nauta Design, was an overwhelming success. For the RP-Nauta 100, the Owner has drawn on the expertise of these renowned companies to design and build a yacht that fully realizes his vision."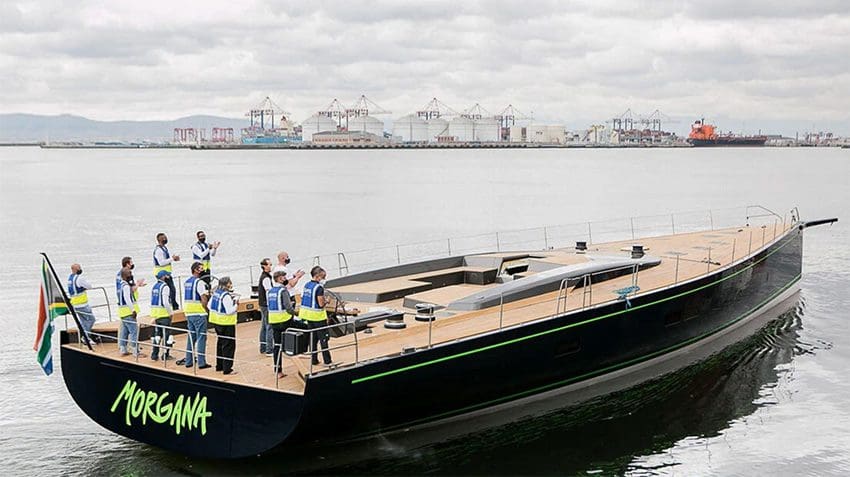 "The hull, sail plan, and appendages of the RP-Nauta 100 benefit from the combined research and development of recent R/P superyachts," Pugh continues."This latest yacht features a powerful hull-form when heeled and a narrow upright waterline which provides stability while reaching and sailing upwind in addition to great light air performance. This yacht will deliver an exceptional sailing experience while cruising and at superyacht regattas."
"The owner was particularly keen on three aspects of the project," says Mario Pedol from Nauta Design: "Functionality for safe and comfortable navigation, performance to enjoy racing in the most famous superyacht regattas, and sexy, appealing design to give the yacht a modern, aggressive and sporty look." With minimal level changes, Morgana has a spacious, flush deck and stands out for the sleek and sporty lines of her coachroof. The "state-of-the-art" cockpit is the result of years of experience amassed in the development of this area.
Thanks to a tender garage, an ample foredeck locker, a hidden mooring arrangement and an underwater anchor system, the 100 footer's deck is clean and elegant. "The Owner challenged us to meet his requests encouraging us to try new geometries in the interior and giving input on new balances of colours with materials," says Massimo Gino of Nauta Design.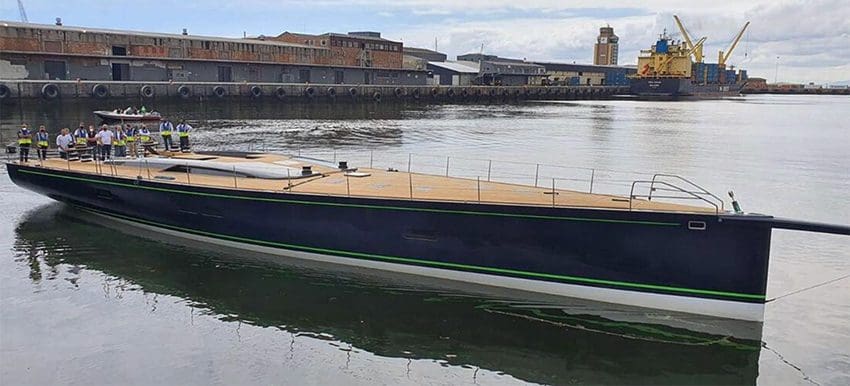 The RP-NAUTA 100 features a three guest cabin layout which includes a large owner's suite forward with ample closet space while still leaving room for a dedicated TV area in the forward part of the saloon. The aft crew area includes a large captain's cabin with a double bed portside and a crew cabin with two bunks to starboard. "Carlo Torre, managing director and founder of Monaco Yacht Temptation, contributed during the construction process by putting his vast experience in coordinating and representing the Owner during the whole construction process," says Mario Pedol of Nauta Design. "It has been a pleasure working together on such an outstanding project."
Operating systems were designed by Southern Wind, as Yann Dabbadie, the shipyard Technical Manager explains: "A full height and accessible engine roommakes for easy maintenance. Since this latter was designed slightly to starboard, systems and battery positioning had to be carefully optimized and balanced. The hydraulic system is powered by 2 state of the art 48V DC motors that produce 40kW and are controlled by a very efficient PLC system designed by MYT that can run in a completely silent mode. The lifting keel was designed with a semi cylindrical head to make best use of composite material and optimize weight: more than 600kg were saved thanks also to detailed engineering done with GURIT."