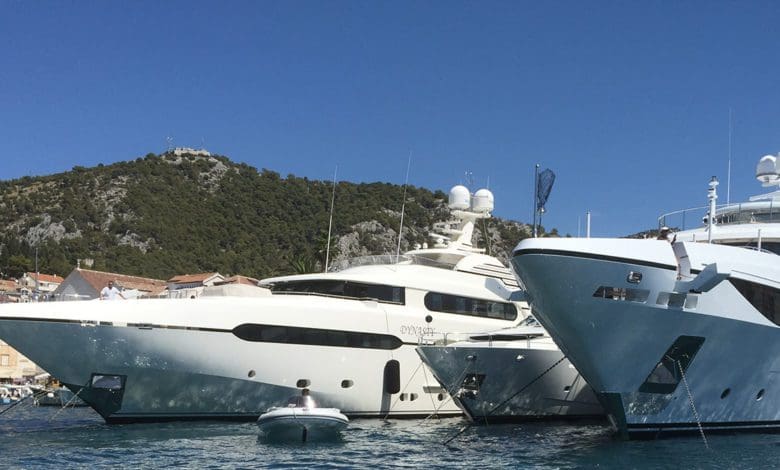 Decades on since the emergence of the Yuppy back in the 1980s, Superyachts and Megayachts are still the benchmark of wealth and extravagance amongst the sailing elite. Luxury yachts are far more than just a sailboat; in fact, many of these high-priced vessels resemble a luxury mansion more than they do a usable boat.  Even though you're unlikely to get many, if any, exciting transatlantic adventures hauling one of these floating pleasure palaces around, they nevertheless remain the ultimate goal for many a multi-millionaire looking for something to spend their pocket money on. Featuring all manner of extras including helipads, basketball courts, concert halls and numerous swimming pools, let's take a look at ten of the world's most expensive and extravagant luxury yachts.
10. Radiant – $240 million
At a modest $240 million, the Radiant may be the cheapest yacht on our list, but it's the most well-protected. Now owned by the Emirati billionaire Abdulla Al Futtaim, in addition to the standard multi-billionaire fare of hot tubs, an onboard gym and luxury suites, the Radiant is also equipped with water cannons and sonic guns.
9. Al Said – $300 million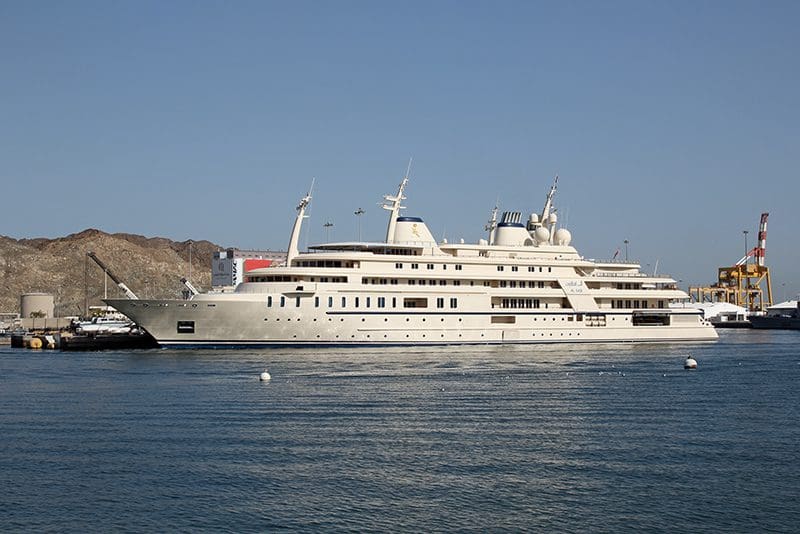 Another bargain at just $300 million, this Lurssen masterpiece measures 508 feet long. It features a concert hall, handy for the orchestras, theatre and ballet companies you often meet seeking work on the high seas. It's also the most powerful yacht in the world, thanks to its 16,500kW engines.
8. Serene – $330 million
Unlike the other boats on our list, this 439-footer, which belongs to Russian billionaire Yuri Scheffler, is available to rent. The catch? It'll set you back a cool $4.25 million per week. Gulp! The most expensive yacht rental on the Yacht Charter Fleet, it'll come as no surprise to hear that this beauty was once hired by Bill Gates.
7. Motor Yacht A – $440 million
Whether making a spectacle at major events in cities like Monte Carlo, or out on the Baltic Sea, Motor Yacht A and its sister, Sailing Yacht A, draw attention like no other boat on this list thanks to their unique Philippe Starsk designs. Reportedly owned by Andre Melnichenko, Motor Yacht A crams 3 swimming pools, a helicopter hanger, a disco, a 2500-square foot master bedroom, six guest suites and a 30 foot speedboat into its 400 foot shell.
6. Luna – $500 million
No stranger to the tabloids, this 377-foot megayacht (once owned by Russian Oligarch and yacht lover, Roman Abramovich) was at the centre of a pretty hefty divorce scandal. Even though owners Farkhad Akhmedov and Tatiana Akhmedov have been undergoing divorce proceedings since 2000, the decision to grant Tatiana Luna as part of the divorce settlement has only recently been made.
5. Topaz – $527 million
Sheikh Mansour's 482-foot frippery comes with a movie theatre, jacuzzi and helipad as standard and was once chartered by wannabe eco-warrior, Leonardo di Caprio.
4. Azzam – $600 million
This 590 foot, $600 million megayacht is currently the largest of its kind in the world, but the world still doesn't know who owns it. Likely to be part of the Royal Family of Abu Dhabi's fleet, the Azzam reportedly even has its own submarine complete with a missile defense system.
3. Admiral X Force 145 – $1 billion
Unlike the other boats on this list, the Admiral X Force 145 remains, at this point in time anyway, still just a design (albeit a fully engineered one). So, what will spending the equivalent of the GDP of Pakistan get you? How about marble and crystal chandelier filled state rooms, two movie theaters, two helipads and a bilevel swimming pool?
2. Eclipse – $1.9 billion
It will come as no surprise to learn that the Eclipse belongs to Roman Abramovich, who took delivery of it back in 2010. According to the tabloids, this megayacht features 24 guest cabins, two swimming pools, a disco, countless hot tubs and two helicopter pads. Great value for money!
1. History Supreme – $4.8 billion
And taking the top spot is the History Supreme with its almost hysterically funny price tag of $4.8 billion. Reportedly belonging to the richest man in Malaysia, Robert Knok, she may be a dwarf in comparison (measuring only 100 foot long) but the Supreme took three years and 10,000 kilograms of gold and platinum to build. Solid gold. Literally. It also comes with a T-Rex.