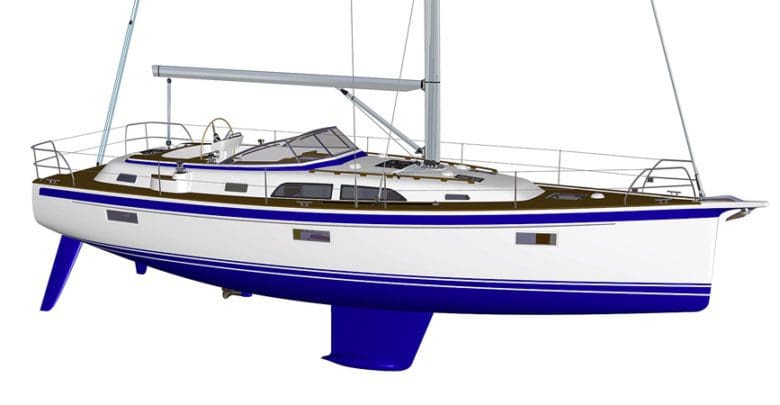 The all-new bluewater Hallberg-Rassy 40C will make the World debut at next BOOT 2020 (18-26 January 2020): the exterior unites two worlds in an elegant way. At the same time it is also obvious for any sailor that this is a true Hallberg-Rassy.
The bow is upright for long sailing waterline and top sailing performance, with an integral bowsprit for a light wind sail, anchoring and a bow ladder. The sheer line is classy and elegant. Also the transom is upright and very full. This gives lots of living space, huge storage and a long sailing waterline.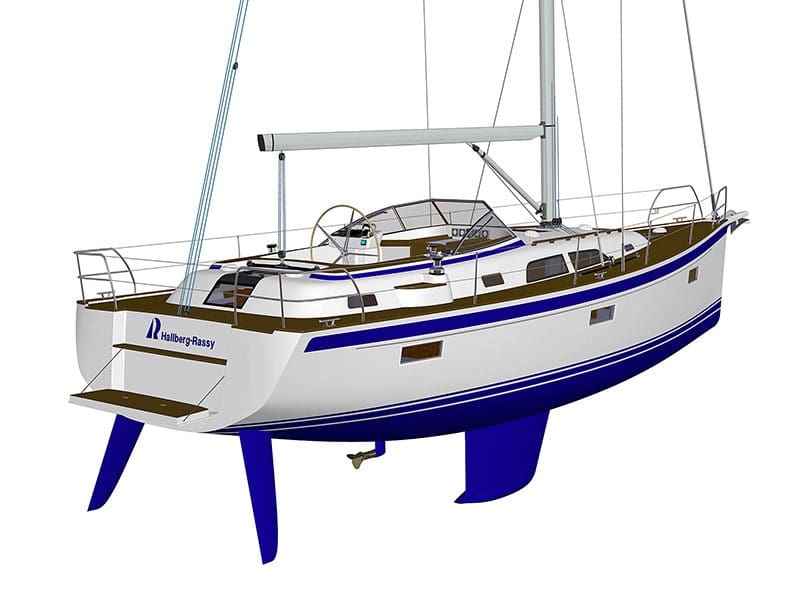 The Hallberg-Rassy 40C has twin rudders for full sailing control and safety. Needless to say, there are typical Hallberg-Rassy solutions, such as: very well sheltered cockpit. An integral and protective rub rail. A heavy lead keel with low center of gravity on a deep bilge for tough conditions. A proper bulwark with teak toe rail so that rain water is drained below the water line, to avoid staining the hull.
Modern rig
The rig is modern and easy to handle. There are no runners needed, not even with an inner hard wind sail. The headsail is only slightly overlapping, which makes tacking very easy. There is also an option for a self-tacking jib. The jib furler has an under deck drum.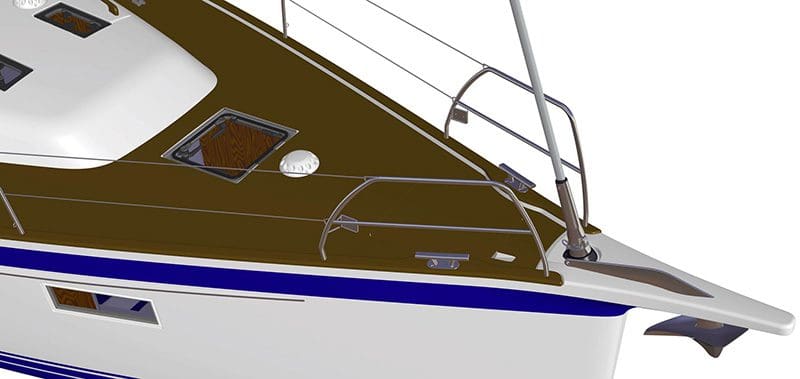 The top shrouds and the lowers are separated on the deck, making it easy for a passage on deck, easy to sheet the headsail, and providing a wide and stable base for the mast. This is a Hallberg-Rassy invention. The boat has a powerful backstay tackle with 1:48 purchase as standard, that makes it easy both to increase and decrease backstay tension.
Cockpit with hardtop option
The new Hallberg-Rassy 40C may be ordered either with the traditional wind screen with foldable sprayhood, or a robust hardtop dodger. Both solutions have windows in tempered glass, an opening midsection, and handles on the sides.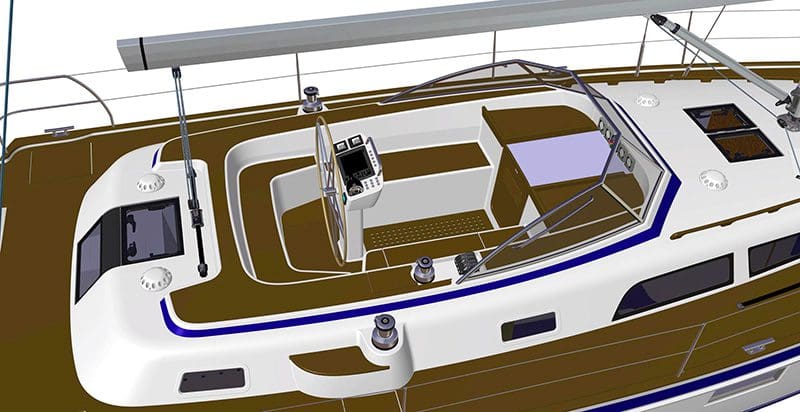 The hardtop offers protection from the elements, both cold and sun. This hardtop has an extensive service life and also offers good sound insulation when sailing in rough weather. The cockpit is as big as on the generous cockpit on the 44. The helmsman's position is slightly elevated, keeping with good all-around coaming protection and giving both good forward visibility and valuable extra headroom in the aft cabin.
The cockpit coamings are wide, an advantage both for sitting there and for the interior volume. There are hidden control lines to a winch in the starboard side cockpit coaming. The steering pedestal has lots of space for chart plotter and control buttons, making push button sailing the effortless solution to handle the boat with minimum crew. The step into or out of the cockpit is easy with a step that is also a space to hide a motor for an electric headsail winch, without interfering with the interior space.
Bright interior
The interior has a lot of volume and is bright and airy. Here there are large portlights for generous natural light. There are also lots of indirect led lights, many ventilation facilities and the interior is spacious and roomy. There are six hull portlights, of larger size than the 40 MK II and 412 and of the same size as on the 64, 57 and 44.
There are two galleys choices: large or enormous. With the option of the enormous, you get both increased work top area, increased galley storage and an additional, front opening, fridge. With this galley, it is also possible to add a dish washer and a micro wave.
If you go for the second largest galley, you get increased cockpit locker space. Both galleys are seagoing and do not interfere with the passage through to the aft cabin.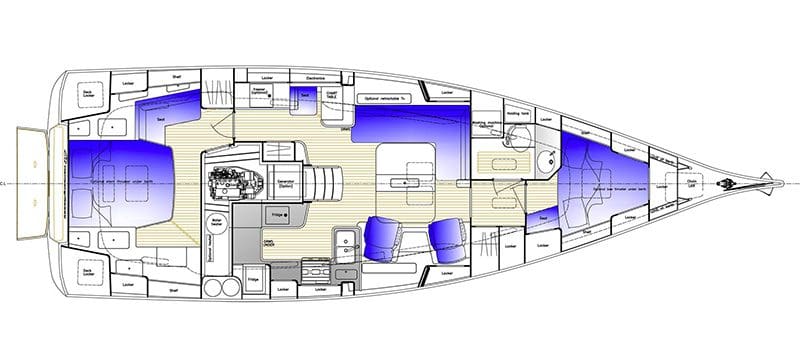 Also in the aft cabin there are two different options: Standard is two separate berths, of which one is double and one single. In-between there is a comfortable seat. As an option there is a wide center line berth available, with settee to port and make up table to starboard.
This version can also easily be combined with a stern thruster, which makes it possible to push the boat on to the dock, even if the wind is pushing the boat in the opposite direction. In both aft cabin versions there are two well sized aft deck lockers.