The new Swan 78 represents, for Nautor today, a medium size, between the entry level 15 m yachts and the large 115-130 ft range.




It benefits from years of experience in maxi design and construction, but is in itself a large step forward. Long ocean races have brought significant changes to the principles of yacht design, with enormous advantages in terms of stability, safety and performance.
The deck is the one area of the yacht where owners, guests and crew spend the most time. Here is where the yacht is handled under sail, and here is where guests enjoy the seascapes at anchor. The Swan 78 deck layout is the most recent evolution of the "S" concept (Semi-raised Saloon), with the celebrated Swan coachroof, with panoramic views from inside, due to the raised saloon.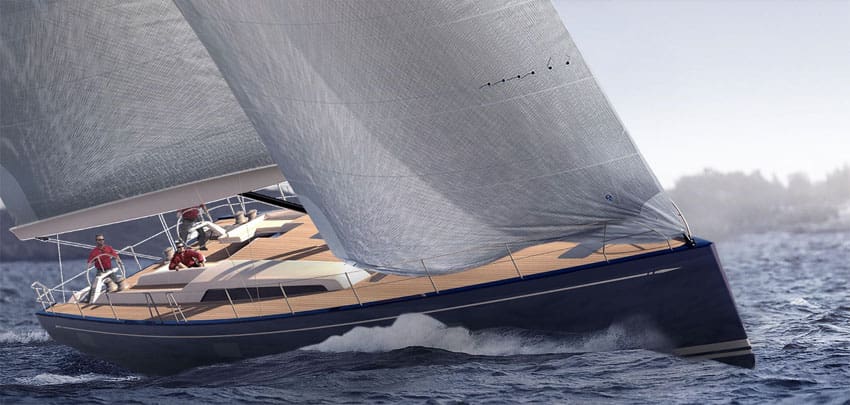 On the 78 Frers signature lines have given their very best, with sleek curves that create a volume capable of protecting the cockpit and creating more space below. The design is a mix of curved lines and multifaceted surfaces, with 360 degree windows and a generous roof that doubles up as a sunbathing area.
The recessed sprayhood and an retractable bimini keep guests always well protected in a cockpit/lounge that features two C shaped settees each with its own table, that can be arranged in various configurations including a solution with a large central pouf.
DISCOVER THE MOCK UP

To provide the most flexibility and satisfy any possible owners' requirement, the interiors of the Swan 78 are offered in two different layouts: Owner Forward and Owner Aft. In the first configuration, the Owner has a large suite forward, cooler and quieter. It is 4.5m long, with an island bed that is completely accessible on three sides. A desk and dedicated bathroom, with large separate shower compartment, complete this luxurious apartment.
The Owners Aft version is dedicated to owners who wish to sail long distances and in any weather. The large suite, in this case, is placed to the stern, in the area where there is less movement and less noise under sail. The cabin provides an impressive 6m width, thanks to the generous volumes of the innovative hull.
Whichever the version, the accommodation also features three guest cabins with different layouts, all ensuite with separate shower compartments.
The saloon remains the same in both versions, and it is also over 6 m wide. It is raised to provide better panoramic views. Below, ample bilge volumes allow for a full beam engine room, totally soundproofed and large enough to accommodate a variety of systems and equipment.