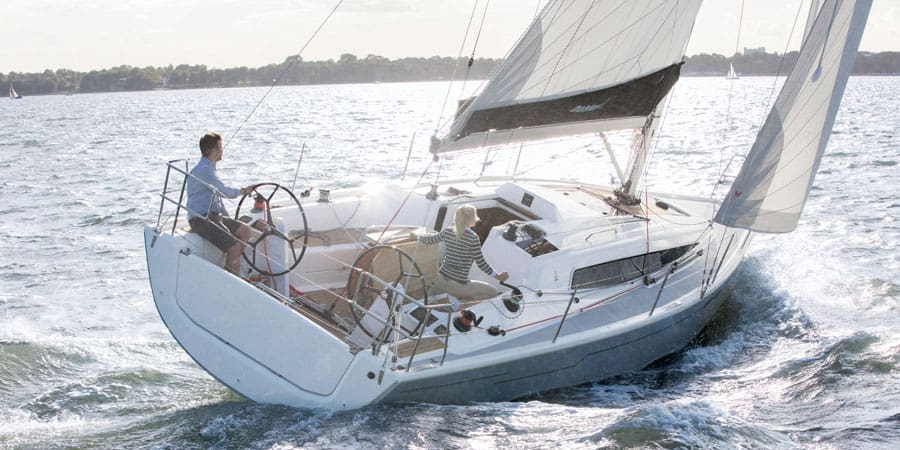 The original Dehler 34 was launched 30 years ago. Now he's back. We saw this sailboat at Cannes Yachting Festival and we fell in love.
The Dehler 34 is a 34ft cruiser/race, and a little lighter than a pure cruiser at 5.4t to 5.8t. She's is strongly built with a solid hull/deck joint and carbon reinforcement, has a keel-stepped rig of decent proportions and comes with the choice of either a deep, T-shaped keel with a bulb or a choice of two L-shaped keels of different depths.
Available as standard, the Dehler Carbon Cage lends the hull 20 per cent more stability. That means you can sail higher into the wind with your Dehler.
The twin wheels come as standard, or you can opt for the tiller steering. All sheets can be led directly to the helm via the six winches integrated as standard.
The standard version of the Dehler 34 features a bow cabin with open bulkhead, while the stern is divided into storage space and a second double cabin. As an alternative, the bow can be built as a closed owner's cabin. The cabins can be outfitted with lightweight furnishings as desired.
While the one table top is in use, the other can be folded down to offer free passageway through the saloon – or vice versa.
Finally, the engine is situated below the companionway and is noise-isolated. It can be maintained from both the companionway as well as from the aft cabins.
CLICK TO SEE THE SLIDESHOW