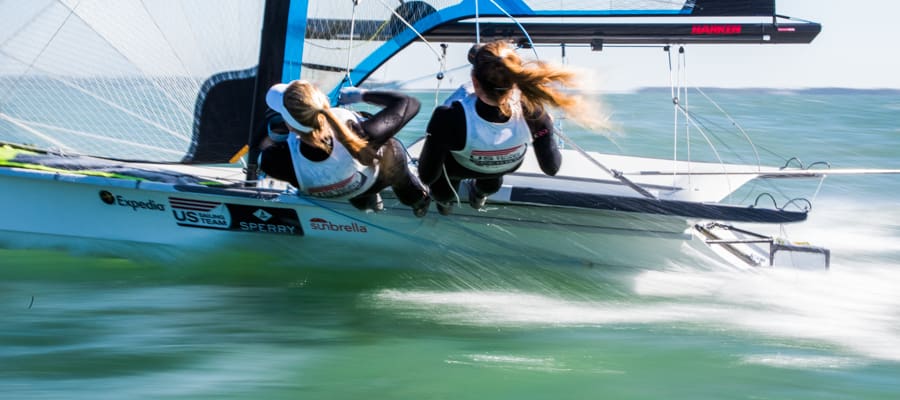 Helena Scutt and Paris Henken (discover here their site) are the first U.S. sailors qualified for a country spot at the 2016 Olympic Games in 49er. But how it performs an athlete's life? What does it means to participate at the Olympics games? We asked Helena. Here our interview.
You are the first U.S. sailors to finish the qualification for the 2016 Olympic Games in Rio de Janeiro: what was your first thought?
We were so pleased to have the weight lifted off our shoulders two days earlier than expected. What happened was we were in a who-beats-who situation at the second Olympic selection event (the 2016 World Championships). Halfway through the event, the fleet is split into Gold fleet for the top 25 and Silver fleet for everyone else. We sailed an excellent qualification series, putting ourselves in 9th, and the other USA contenders did not make the Gold fleet, so there was no way they could pass us in the rest of the regatta. Therefore we had won Olympic selection. It has been a journey filled with many joys but also many challenges. I barely slept that night, from too much excitement, and what I found interesting was I thought a lot about all of the obstacles and tough spots that we persisted through so far. I wouldn't trade this journey for anything.
How is your typical training day?
A typical training day involves a quick snack and then a morning workout in the gym, prepared by our trainers. After that, a big breakfast (usually oatmeal and eggs) and a little work before preparing for our session on the water. If there's any boat work that needs to be done we try to do it before sailing. Before heading out on the water we'll talk with our coach about the focus for the day's training and have lunch. On-the-water sessions usually last 2.5-4 hours and we'll do anything from specific drills alone to speed tuning with a training partner to practice racing with several boats. Afterwards we cook dinner, stretch, and then debrief with our coach about the training, usually with video to help our analysis. We organize all of our own logistics (boat transport, travel, accommodation etc.), fundraising, and social media so we spend time working on that in the evenings. Some days we'll have a phone call with a coach at home or our sport psychologist. And finally, we make sure to unwind and forget about sailing, usually with a movie, a book, staying in touch with friends at home, or a game.
The 49er FX is a fast and very technical boat: what are your strengths?
Our strength is our feel for the boat and our sense of how to make it go as fast as possible in any given moment. Paris and I have been sailing skiffs since we were 12 and 16, respectively, so we have an instinct and intuition for what is fast. It is a technical boat, and with my engineering degree I have quite a scientific mind which helps. But that said, it's actually Paris who checks and sets our rig tensions on land, and I'll adjust them on the water if need be.
Over time our communication with each other has improved, but it's something we have had to consciously work on. Our coaches and sport psychologist help us with that. We are both very determined, which is important because when anyone first starts to sail a 49er or 49er FX they will capsize a lot and make many mistakes.
How important are the sponsors in an Olympic Campaign?
Unless you can fund your campaign yourself, which very few can, sponsors are vital. The costs of so much travel abroad for the two of us and our coach really adds up. Not to mention the purchase, transport and maintenance of our boats and paying our coaches. At the elite level we use a new set of sails for almost every regatta, and we have to get 2+ boats around 3+ continents each year. We are very grateful to the US Sailing Team Sperry and its sponsors, especially Sperry. We are also thrilled to be personally sponsored by Expedia and Spinnaker Watches. It's an honor to be associated with these companies and to have their belief in us.
Who will be the opponents to beat in Rio?
The tricky conditions in Rio, plus the unmatched pressure of the Olympic Games, means that some of the expected favorites may not rise to the top. It could be anyone's game. Although a new class, the 49er FX fleet is deep. At the most recent World Championships, none of the 3 past World Champions were on the podium. The World Champions are from NZL, BRA, ITA, and ESP, and DEN and GER rounded out this year's Worlds podium. We are going to be ready to battle with the rest of the world's best!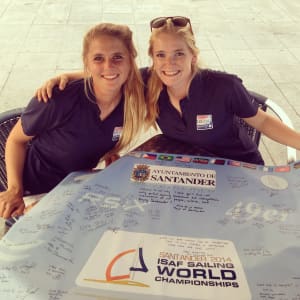 Last but not least, our classic question: what does it mean "sail" for you?
I love the teamwork, I love being in the elements, and I love the constant variety and learning. But ultimately, to me sailing is about being in the moment. My mind tends to operate in the future, always thinking ahead. When you're sailing, especially in a skiff, it's hard to think about anything except the next wave and the next puff. To me that's meditative, even in competition. In college at Stanford, sailing practices were long and I was often sleep-deprived, but regardless they were my escape from the stresses of class. When I would come back to campus, splashed and salty, and eat dinner with my housemates, I felt like I was in on an awesome secret… sailing."