Sailboats
Contest Yachts ready for a Double Debut at Boot 2023
Contest Yachts will return at the Dusseldorf Boat Show 2023 with the joint world-premiere of two brand-new bluewater yachts, the aft cockpit Contest 49CS and centre cockpit Contest 50CS.  
Two fifty-footers presenting distinctly different formats for personalized family-and-friends performance bluewater sailing. The Contest 49CS is the first twin aft cabin Contest at this length and both the 49CS and 50CS are Contest's first yachts with the option of all-electric propulsion, engineered with a completely new Torqeedo and BMW-based system delivering true bluewater range.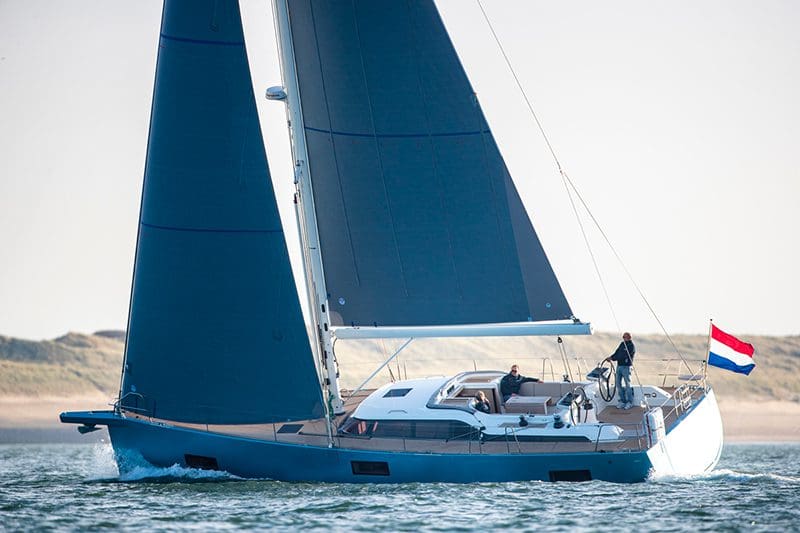 After the two-year break owing to the pandemic, Contest Yachts CEO Arjen Conijn says, "It's so great to have this show running again and to be back exhibiting two such exciting new models. As well as the variations in deck layout, these brand-new Contests 49CS and 50CS introduce two very different approaches to interior and exterior configuration, all within a really perfected judel/vrolijk drawn hull. The result is clear: optimal performance and uncompromising comfort at rest and underway and exquisite engineering and outfitting. And the space, particularly in the 49CS twin aft cabins, just unimaginable before now and certainly never outfitted at this level of craftsmanship. We're looking forward to welcoming visitors aboard."
In the Contest 49CS, the yard developed something new, different and yet reassuringly consistent with Contest credentials. A natural twin-aft-cabin step up they've not had from the aft-cockpit Contest 42CS before, it's equally a new step into the Contest range for sailors preferring their master suite forward and family or guest cabins in the back. And what aft cabins these are. With full headroom running almost throughout they're on a scale never seen at this end of the 50ft sailing sector. 
Yet still, they have a very impressive tender garage, spacious aft deck, and loads of storage throughout the cabins which enjoy the latest design-styling and detailing from the Wetzels Brown Partners studio. The introductions are many and include new ergonomic luxury furnishings from the clever sofa and recliner arrangement to joinery detailing including optional ribbed timber bulkheads. 
Contest 50CS
The all-new centre-cockpit Contest 50CS shares this approach, too, presenting not just beautifully but practically, replacing as it does the original, very successful model of the same 50CS name. Ease of handling for couples and excellent storage have always been key to the previous model's many world-sailing adventures and now in the new 50CS full advantage is made of the many advances in design and technology. The owner chooses how far to go, and with the option of bowsprit-integrated Code 0 furler, the nautical miles roll by in even the lightest winds.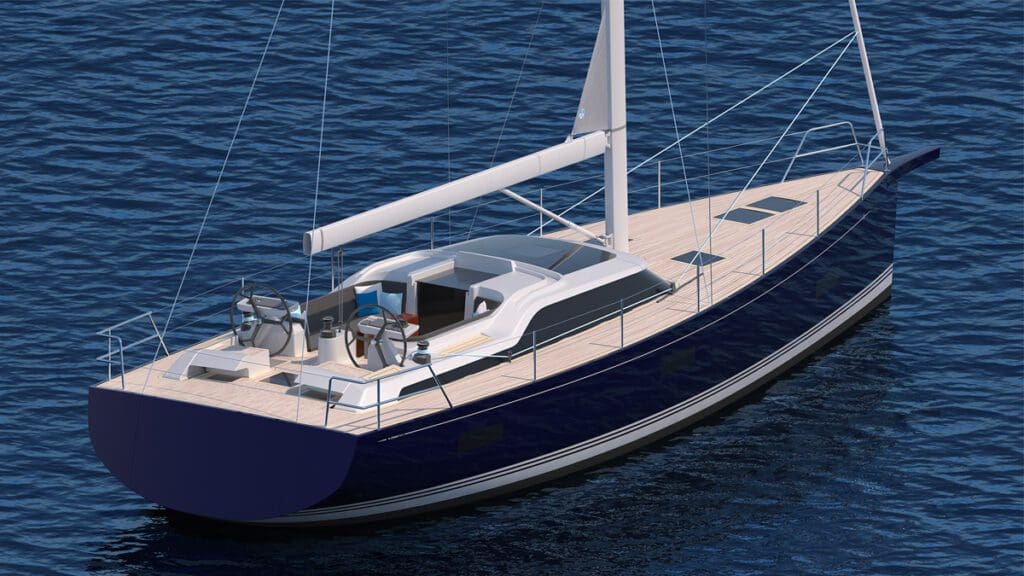 For both the Contest 49CS and the Contest 50CS, judel/vrolijk & co's balancing of modern topside height and max beam carried well aft, the exceptional space includes extra tall standing headroom throughout and the new extra-width saloon brings a whole new freshness and sea-practical sophistication. Natural and mood lighting is meantime cleverly integrated into the Lloyds Register-certified structure and outfitting. And this even includes for the 50CS's aft master cabin a smart wide window set into the transom which externally features an integral moulded stairway for bathing and boarding the tender. Ingenious!
So, two approaches in two new models with a significant opportunity for long-range, all-electric propulsion, making a personal choice the first choice.