The Dufour 520 GL embraces many of the features of her sister yachts, as well as number of new aesthetic and functional touches.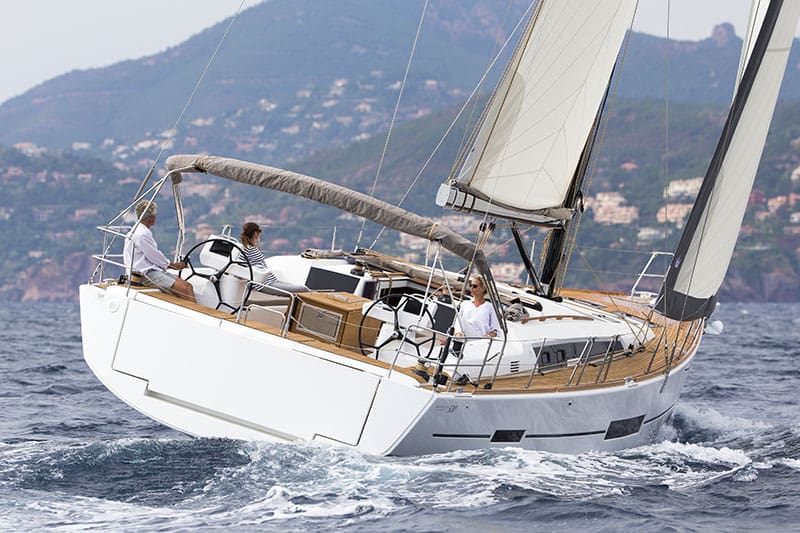 The cockpit is enclosed by generous side and aft seats, which also conceal Dufour's deck barbecue and sink. The cockpit table includes a 39L drawer fridge hidden beneath the table-top, and the central aft seat rotates through 180° to offer additional seating for guests to gather comfortably around the table.
A newly designed lowering transom creates a wide, two-tiered bathing platform. Operated by remote control, the lower level of the two platforms hovers just above the water and the upper platform extends the cockpit and socializing space outboard.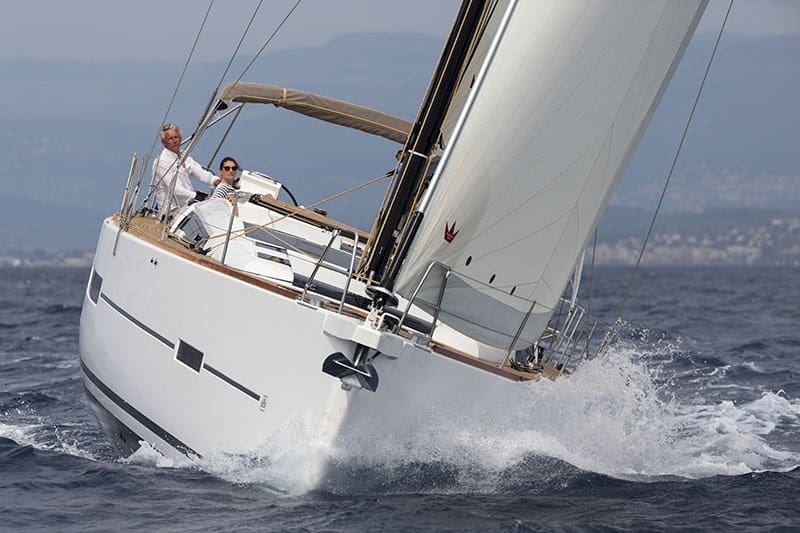 The lower platform enables easy docking and unloading from a tender, creating a step downwards, rather than a step upwards on to the boat. This is especially handy for unloading heavy provisions, boarding young children or enabling people with more limited range of movement to disembark safely and comfortably.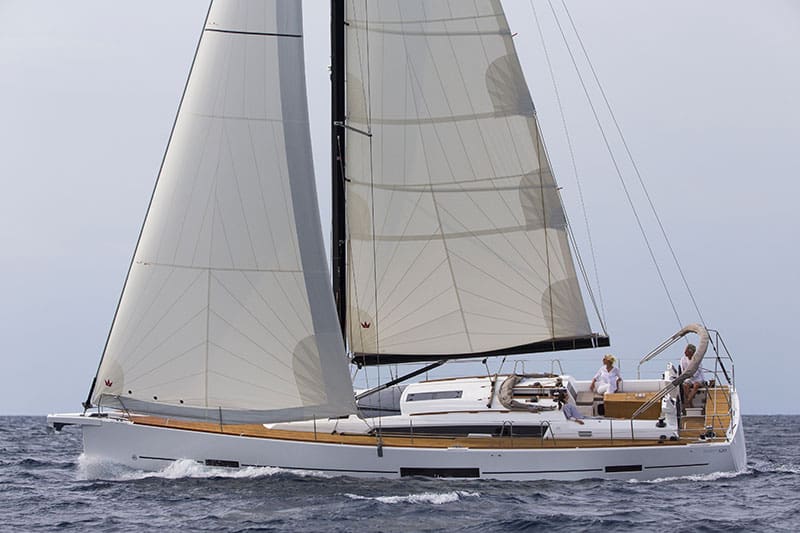 Easy sailing
The wide transom means the helmsman has exceptionally good visibility from both behind and sitting beside the wheel. The helmsman seats are fitted with back cushions on the pushpit and an elegant pod console sits forward of both wheels for all navigational equipment and remote controlled electronics.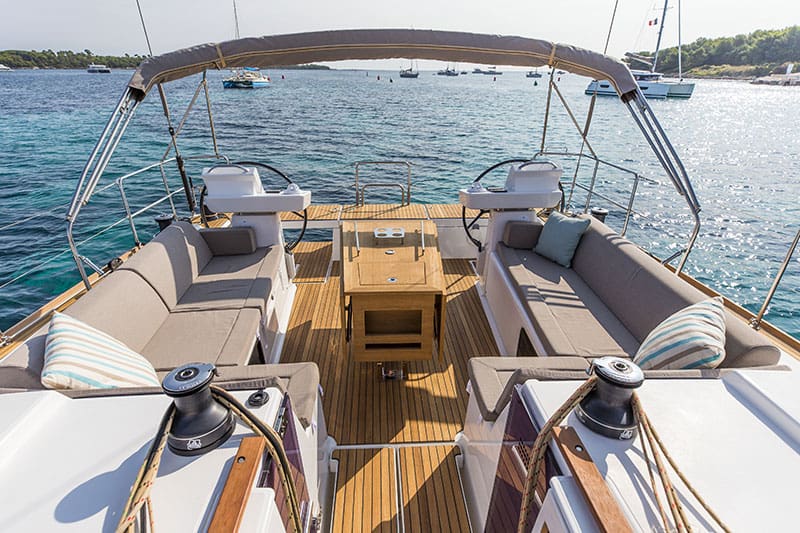 Controlling the sails is easily managed from two large primary winches, situated in easy reach of the helm. The German mainsheet system runs on a coach roof mounted traveller keeping the cockpit area completely clear. A 108% overlapping headsail with genoa tracks and adjustable cars is fitted as standard.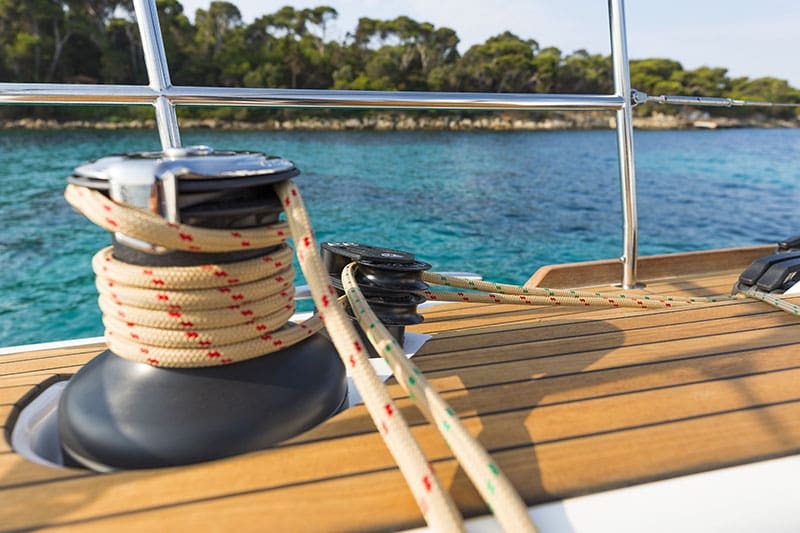 The genoa sheets run to the primary winches and can be locked off at the turning blocks to enable easy sheet management. Plus, there is the option to fit a self-tacking jib, for simple and straight forwards boat handling, which is useful if sailing-short handed.
Below decks
Below decks the forward galley layout creates a very clean and open living space with spacious seating and dining area. The salon table is set on an electronically adjustable mount and can be lowered to 'coffee' table height, or raised up to dining table level where it can also fold up when out of use and during passages.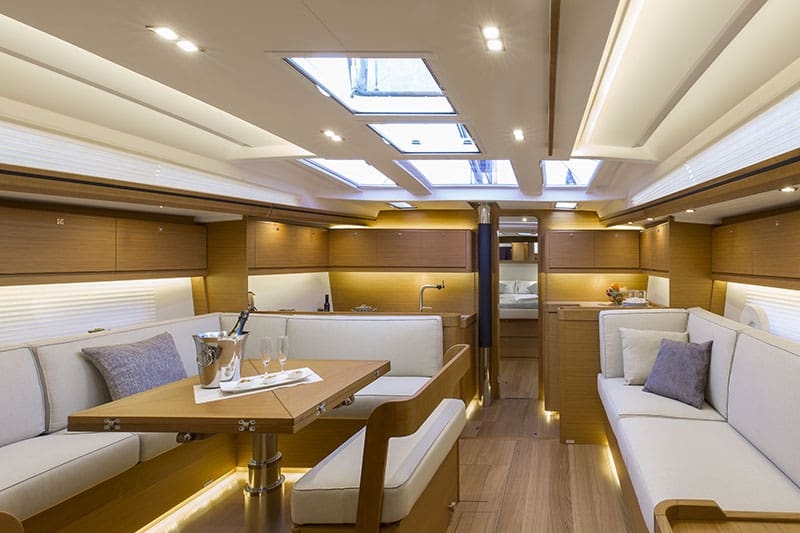 Dufour's trademark large side hull and deck windows flood the salon and spacious cabins with natural light and there is plenty of storage. LED lighting sets and 220v plugs with USB recharging points are positioned by each bed, and LED lights are conveniently fitted inside the wardrobes too. The interiors use solid wood extensively to create luxurious, natural environment, with the choices of moabi, oak and teak finish.
The 520 GL has a variety of versatile layouts, with three luxuriously fitted cabins to sleep six or four cabin options offering up to eight berths, with two or three heads and the option of separate showers. The aft cabins can also be converted from doubles to twin beds, which is helpful for both family use and chartering. Discover more on Dufour Yachts official website.