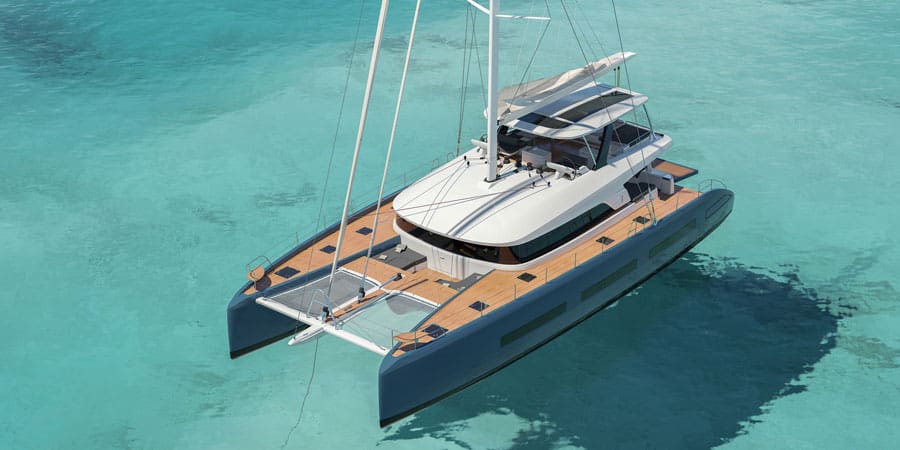 With an illustrious team brought together by Lagoon – VPLP, Patrick le Quement, and Nauta Design – the Seventy 7 catamaran yacht marks an important step towards a boating world in which elegance and refinement are the staples of design.
Your life at sea awaits with 25 m² of fully configurable space, this enables you to create your very own version of the Seventy 7.
Open floor plans being a key part in the design provide you with uninterrupted views from the cockpit in any of the options. We want to facilitate a convenient and freeing way of life for you at sea. The cultivation of personalized relaxation will inevitably come with being aboard the Seventy 7.
A forward cockpit, directly accessible from the deck and the salon, provide you with an outstanding view to the horizon without interruption. Large hull portholes that allow generous amounts of light into the interior spaces are sure to never have you miss a moment of basking in the sun.
The salon being equipped with large windows and exceptional headroom provides an unmatched panoramic view all day long. An opulent owner's suite, independent of the rest of the vessel, gives you exclusive access to the sea by having the option of a private terrace.
A flexible, fully modular space enables the creation of an additional private area for the owner's suite, connecting directly to the salon and the forward cockpit.
Different layouts are available with 3, 4 or even 5 guest cabins, each fitted with an island bed, a desk, ample storage spaces and complemented by a private bathroom mean you can entertain all who you wish to.